September Beneficiary: I Love U Guys Foundation

09/01/2011 16:57, Published by Jacqueline, Categories: Today
---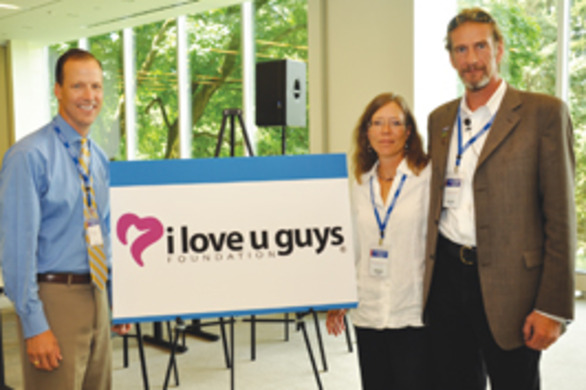 ---
---
—"I Love U Guys" Foundation—
Beyond 'random acts of kindness'
Ellen Stoddard-Keyes and John-Michael Keyes, right, at a presentation with Chief Operating Officer at Genesis, Robert Jones, left, in Stamford, Conn.
by Margo Hamilton

The morning of Sept. 27, 2006, found Ellen Stoddard-Keyes enroute to Platte Canyon High School with her daughter, Emily, driving the family car. Emily and her twin brother, Casey, had recently celebrated their 16th birthdays, and both were thrilled to have their driving permits.

"Emily and Casey took turns driving to school, and on their day to drive they could select the music they wanted to listen to, so we were listening to Emily's favorite, The Red Hot Chili Peppers," Ellen remembered.

Arriving at the high school at 7:17 am Casey was going on a field trip and perhaps Emily thought a mundane Wednesday lay ahead. As the kids got out of the car, everyone shared their "I love yous," a typical and tender sentiment so easily shared between the Keyes family, and Ellen encouraged her children to "make good choices." She drove away, prepared to get printer toner and office supplies, not knowing this was the last time she'd ever see her beautiful daughter alive.

At 11:40 am, a macabre man enters the school wearing a dark blue hooded sweatshirt and carrying a backpack that canceled a semi-automatic pistol and a handgun. He entered the classroom of Sandra Smith, who was teaching honors English, and the stranger instructed Sandra to leave. This amazing teacher refused, so the gunman fired a shot into the air. He made everyone leave the classroom, except for seven girls. Emily Keyes was one of them.

Through a police scanner, Ellen learned about the hostage situation, and called her husband, John-Michael, telling him to go to the school. By the time he arrived, the road to the school was barricaded, but a back road placed him 200 feet away. He joined 30 anxious parents, and Ellen headed for the police substation.

Ironically, John-Michael had just purchased cell phones for his kids, and he knew he had to communicate with his daughter. He knew he couldn't call, but he didn't know how to text.

John-Michael confessed, "I looked around and asked, 'Is there anyone here under 30? I need to do a text message.' A reporter from the Fairplay Flume was there, and she took my phone, typed in the letters 'r u ok?' Within minutes, Emily texted back, 'I love u guys.'"

Six of the girls held hostage left Platte Canyon High School with their lives that frightful day. Emily did not. Through her death Bailey banded together, and compassion throughout the world reached out to console the Keyes. The Keyes urged "random acts of kindness" in memory of their daughter.

"It was a hazy time for us," Ellen declared, but within 10 days, John-Michael's business partner managed to start a 501c3, as the Keyes knew their daughter's life was to be celebrated, cherished, and have meaning and purpose.

Ten days after the shooting, a motorcycle ride was organized as a fundraiser, and called the "Columbine to Canyon Ride" to remember the victims of both the Columbine and Platte Canyon high schools. The procession of motorcycles was so long that the first to get to Platte Canyon High School arrived as the final motorcyclists departed from Columbine High School.

It was quickly determined that the proceeds from that Ride, nearly $74,000, would go to benefit the six heroes who were in the classroom with Emily.

That ride is now an annual tradition, with a 5K run that starts at Platte Canyon High School. The event is now known as Emily's Parade and takes place Sept. 25 this year.

The Keyes have turned tragedy into a triumphant nonprofit, appropriately named the "I Love U Guys" Foundation. Their mission is to "support, restore and protect the joy of youth."

The foundation's office is currently in the basement of the Keyes' home, but that's about to change thanks to an anonymous benefactor who bequeathed 15 acres at the top of Bailey's Crow Hill.

"The thought was we would sell the land," said John-Michael. "But Bailey is without a community center, so we see this land used for that purpose, and a future home to house the foundation's office.
John-Michael travels locally, statewide and nationally to promote the foundation's programs about school safety.

Volunteer this month for Emily's Ride, and/or stand along Highway 285 to cheer the riders who make the trek from Columbine to Platte Canyon High Schools. In addition to donating financial gifts, there are opportunities to work on the 15 acres, participate in future "barn raising" activities, donate your ATVs and cars or give gift cards for office supplies and toner.

Learn more by visiting the I Love U Guys website at http://iluvuguys.org.
---
---