From great chili to calendar pinups

09/02/2011 17:57, Published by Jacqueline, Categories:
---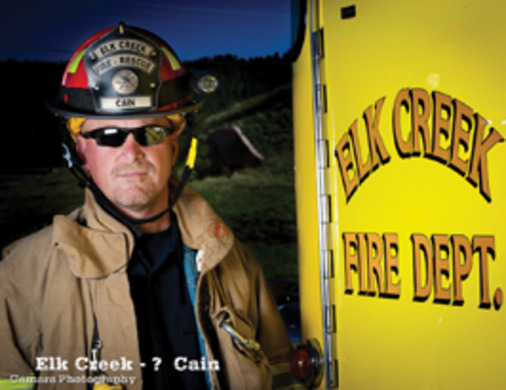 ---
---
Elk Creek Firefighter Scott Caine's calendar photo
by Kristin Witt

There really is nothing quite so compelling as people who give to their community, generous souls who see the value in investing in the place they live.

The Big Chili Cook-off brings out the soul of our community in ways that are amazing, worth noting, and sometimes the greatest efforts come from the most unlikely places.

Small business is the hub around which our community revolves, and by small we are referring to number of employees and square feet. There is nothing small about the heart or creativity of our mountain area commerce. Part of the means we use to raise money for our firefighters at the Cook-off is a silent auction. Our participating artists all put one piece in the auction as part of their contribution to the day, and several businesses joined them in contributing an item. Best Buy Denver West offered a 50" television, Hiwan Golf Club donated four golf passes and a group of businesses  joined together with a real prize. Asphalt Artistry, ESCO Construction, Asphalt Specialties and Pine Ridge Trucking contributed a driveway, valued at $3000.  

We were thrilled to working Cactus Jack's in a big way this year. They stepped up to fill in some much needed cash contributions that will result in more money for our firefighters. Cactus Jack's is always in the mix where community events are concerned and we are proud to partner with them.

Blue Spruce Kiwanis is thrilled this year to be offering a 10th Anniversary 2012 Volunteer Firefighters Calendar. This calendar captures the commitment of our firefighting and rescue services as they make life in the mountains possible. Camara Photography not only gave us some astounding photos, but they have worked tirelessly to see that this calendar will do justice to this 10th Anniversary event. Their efforts along with Rising Graphics have produced a calendar we are exceedingly proud of and all the proceeds go directly to our six volunteer fire departments.

Last year the Big Chili raised about $55,000 that went right back into our mountain concerns, purchasing equipment and training for our fire and rescue organization. 

Kristin Witt is director of the Big Chili Cook-Off. Contact her at kristinwitt@msn.com or 303-674-0617. 
---
---