Driveway need repair? Gravel, roadbase or recycle asphalt?

09/05/2011 10:52, Published by Jacqueline, Categories:
---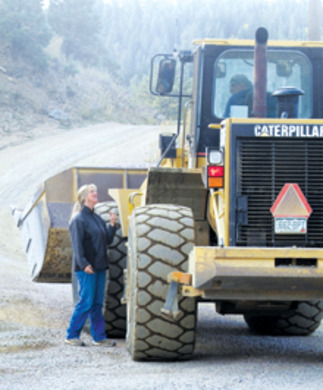 ---
---
Juliet Moores on the job
by Juliet Moores, Elk Creek Sand & Gravel owner
Driveway repair does best when damp: Washed out gravel or dirt driveways are a common phenomenon here. The end of the monsoon season before the start of the cold season spells an ideal time to prep a driveway for winter. The availability of residual moisture in the ground and occasional afternoon showers are the best time to grade a driveway.
Take your time and make sure the conditions are not too dry. A quick fix is a garden hose or other water source if you can reach that far.
Prepping the driveway ready to resurface: Scarifying is a fancy word for scraping or roughing up the surface of something. When you scarify the surface of a driveway you generate a rough contact surface. This works great before placing roadbase or gravel since the surfacing material will have a rough contact to adhere to and is less likely to run off down the driveway in the first big rain. Prepping a driveway is also a great way to correct faulty drainage that is often the cause of those pesky ruts during the rainy season. Very often simply installing roadbase, gravel or recycled asphalt into existing ruts will not fix the problem alone, and some additional work is required to divert the drainage elsewhere, if possible.

Prepping a typical 60- to 100-foot long driveway typically involves 1 1/2 to 2 1/2 hours of skidsteer time at anywhere from $80 to $105 per hour. Some owners charge a mobilization fee to move their machinery into the jobsite. This can be from $75 to over $150 for a smaller skidsteer and much more for a larger. These are rough averages.

Installing recycled asphalt and gravel or roadbase: A tandem dump truck full of asphalt or gravel will weigh around 14 to 15 tons while a single axle will come in around 8 tons. It may not sound like much but it will sure feel like it after a few minutes shoveling. Even a single ton can be daunting. A typical driveway can use about one tandem per 60 linear feet of recycled asphalt and one per 100 linear feet of gravel roadbase. This is based on a number of assumptions, including the road being an average of 10 to 12 feet wide for calculating coverage. The other is depth of material. Gravel rock doesn't compact, so 2 inches of gravel will sink a little into the scarified substrate but will quickly settle giving a clean, polished, slightly rustic appearance with a satisfying crunch underfoot when traveled.

Road base needs a little more depth, 2 1/2 to 3 1/2 inches laid down, which will compact about 25% to 30%. Recycled asphalt needs even more depth and a 3 inch mat will compact easily 40% so don't get too skinny on the recycle.

Recycled asphalt, sometimes referred to as RAP (reclaimed asphalt product) is more demanding on the installation. Whereas, both RAP and roadbase require water, RAP needs a good soaking to get optimal compaction. Various petroleum based "rejuvenators" are also available on the market to vamp up the oil content in RAP, which is typically around 4% to 5% when the material arrives at your driveway, but these are expensive.

RAP also needs significant attention during compaction. If a drum-based wheel roller or other compactor is not available, resourceful locals turn to a pickup truck, the heavier the better, and the applied wheel pressure to tamp down the asphalt, or a plate compactor for the energetic.

Rejuvenators are best applied prior to compaction and in very light amounts, perhaps one gallon per 30 tons or less, and RAP installs best with an ambient temperature of 70 degrees and rising.

The upside is that recycled asphalt—if installed correctly—will last well and has a pleasant, sophisticated appearance. It is also an economical alternative to paving, with many of the same benefits and without the hefty upfront costs.

The benefit of sunshine on a black surface is well known, but who can argue against the benefits of traction from a gravel aggregate surface.

Call the experts at Elk Creek Sand & Gravel at 303-816-4047 or visit www.vituallydirt.com. It is a supplier of construction and landscape design aggregate and materials for residents and contractors.
---
---