Evergreen's wondrous world of glass

09/07/2011 10:29, Published by Jacqueline, Categories:
---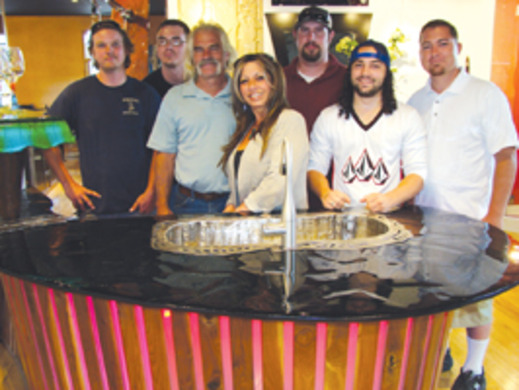 ---
---
From the left, Cordon Davis, Cole Tibaldo, owners Ron & Dancing Breeze Rossetter, Eddie Wickholm and sons Lakota Sage & Forest Shade Rossetter 
by Bethany Desch

To visit the Evergreen Glass showroom is to be transported into a world of wonderment and delight at the many forms and functions of glass, and the inspired beauty that can be realized when a talented team of people put their creative heads together to create your glass design dream.

"Our motto is: "You imagine it, we create it," explained Dancing Breeze, co-owner of Evergreen Glass, with her husband, Ron, "and we have certainly been called to task on that!  We had one client who came in with a bag of stones and asked us to create a countertop of river stones with water running through it.  It took us a little time, but we did it! People don't realize how much you can do with glass. They think of glass as fragile and breakable, but tempered glass is actually stronger than granite, so the possibilities are endless!"

Evergreen Glass produces almost any glass project you can imagine—from showers to kitchen counters, from desktops to full bars, from signage to decorative pieces to glass mounted photographs. But they still welcome the traditional business of window replacement and basic glass projects. "We want to serve our entire community and meet all of our clients' needs," Dancing Breeze said.

Evergreen Glass is truly a family-owned and inspired business, which ensures not only the quality of the finished product, but the quality of the experience, and Evergreen Glass is completely green, having earned official green approval for releasing no toxic by-products in the production process. 

"We are the only glass company from which you can get a 10-year guarantee on our product," said Dancing Breeze. 

"We have a unique, patented process for creating our pieces that ensures that there will be no color fading or delamination, and this is just not something that any other company can or will guarantee. And we love doing this!

"We won't charge for the design process, we will work with you to create whatever you can imagine, and we will be there through the installation. There is a continuity of experience that you just won't find with other, larger glass companies," she said.

Ron and Dancing Breeze welcome the community to the Evergreen Glass Design Studio located just south of the Tonka building on Industrial Way. 

For directions and information about the studio, visit www.evergreenglassinc.com or call 303-674-6116.
---
---