The power of couples exercising together

09/07/2011 12:35, Published by Jacqueline, Categories: Health+Wellness
---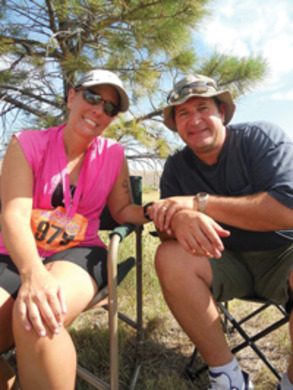 ---
---
Jim and Theresa Garin share their experience of working out together. 
by Deb Brown, NSCA-CPT, CWC and CNS

Have you ever considered working out with your spouse? In this article, two clients, Jim and Theresa Garin, share their experience of working out together.

Theresa: "I've been working out with Dave and Deb for four years. After a skiing injury, I wanted to become stronger but also wanted guidance so that I wouldn't hurt myself.

"That's where On The Move Fitness came into play. Their encouragement and positive attitude has kept me coming back. Since working with OTMF I have accomplished activities that I never would have dreamed of accomplishing: hiking the Grand Canyon from rim to rim, finishing the Tri For The Cure Triathlon, and the MS 40-mile bike ride with my husband Jim! Even through my neck injury and three foot surgeries, I have continued to workout within my limitations but continued to gain strength and stamina.

"After two years, I talked my husband into working out with me. It was a tough sell; he thought he didn't have time. After working out a few times, he realized that not only was he gaining strength, his stress level was going down. Now we enjoy working out together, motivate each other to keep going and look forward to spending our workout time together. OTMF has been an incredible motivation and with the personal attention, Jim and I are in better shape than we have been in a long time."

Jim: "As I stood there watching the sun set on the south rim of the Grand Canyon, I made a promise that I would come back someday and see the bottom. It took a few decades with work, children and life to return, but this time I was challenged by my wife that we should have an adventure together. That started years of enjoyment in strength training and exercise.

"Theresa found a fitness center in Conifer with a unique approach: 'work out to live, not live to work out.' Dave and Deb encouraged Theresa to get me to train and one day, realizing that my wife was way more fit than I, I did. Since that day my wife and I have been training to do activities or recover from life's little bumps and bruises as a couple, and we love it. The truth is, if I don't go I would not be able to keep up with my wife!

"I truly have found great enjoyment working out with Theresa because after all, the one person you can't hide your emotions from is your best friend, and she will not let me quit nor will I let her. The biggest challenge in working out together is organizing our schedules. The easiest way to get around that is to say 'Yes, dear,' and show up. When you are at the studio, all the stress seems to melt away as you ride, run, push, pull and laugh the day away. That said, the best part is the activities.
"I did return to the Grand Canyon with my wife and friends and have seen not only the bottom but the sides and more than I would ever have hoped for. We have also started activities that we had given up on like water and snow skiing."

Contact On The Move Fitness at 303-816-1426 or visit www.onthemovefitness.com to learn about our personal training services.
---
---