Granite Fitness Center at Pine Junction opens

09/07/2011 12:07, Published by Jacqueline, Categories: Health+Wellness
---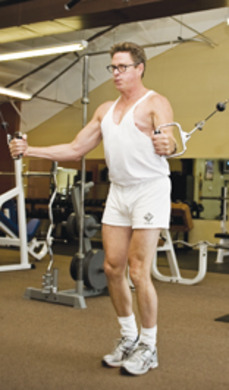 ---
---
New owner John Fitzsimons
by Robyn Johnson

Bring your mind and body to Granite Fitness Center at Pine Junction for a focused workout in a supportive, community-minded fitness center.

At the beginning of 2011, previous owners, Bruce and Paula Ward, approached John Fitzsimons about taking over their fitness center, The Fitness Center at Pine Junction. John said he was taken off guard and left to think about it over the Super Bowl weekend. After talking things over with his dog, he picked up the phone and called the Wards to express his genuine interest. On Aug. 1, John was given the keys.

He believes in a hands-on philosophy, offering tips and making himself available for questions, ideas and assistance throughout the day. As a knowledgeable personal trainer, he often introduces new exercises or workouts to fitness center members. For the future, he'll bring in additional equipment and expand offerings.

John started his fitness quest in the late 1980s when he trained and studied with Billy Smith. Billy was one of the original "American Gladiators" and founder of the Intra-Fit training system, a program of nutrition and meal planning, as well as cardiovascular and resistance work.

In addition to being an NFPT-certified personal trainer for more then 11 years, John has also taken Jon Benson's M-Power Series, a program that focuses on mind, meals, muscle and motion.

In personal training sessions with clients, John introduces techniques to help them achieve their personal goals while also infusing methods of functional fitness, core-training and anti-aging fitness.

He whole-heartedly believes in the mind-body connection, often showing his clients a picture of where a specific muscle is located so that they can actually picture that muscle during a specific exercise.

At Granite Fitness Center there are single, couple and family/corporate memberships available at reasonable and competitive rates with a one-time registration fee.

New members are given a one-on-one orientation in which John walks through each piece of equipment with the member. In addition, new members benefit from a complimentary personal training session, making it easy for everyone from novice to expert to start their journey toward their goals.

The user-friendly fitness center welcomes members of all stages and ages. From 18 to 77, members have access to a full line of cardio equipment, including treadmills, ellipticals, stationary bikes and summit climbers, as well as complete circuit training equipment and a full range of free weights.

Contact John at Granite Fitness Center for your membership to health and wellness at 303-838-5690 or 303-816-0862. Or email granitefitnesscenter@gmail.com.
---
---