New Earth Green Depot: green expansion

10/03/2011 17:03, Published by Jacqueline, Categories:
---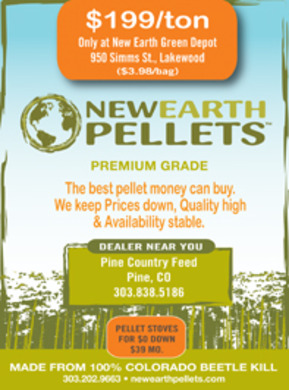 ---
---
—NEW EARTH GREEN DEPOT—
Rosalie Bianco, owner, of a one-stop shop for locally made pellets from beetle-kill wood
by Sarah Schraad
New Earth Green Depot is going greener. Formally New Earth Pellets, the Depot remains a one-stop-shop for locally made premium-quality wood pellet fuel made from 100% beetle-kill wood and has recently expanded its offerings to include environmentally friendly building products and custom-crafted beetle-kill home furnishings.
"While our primary focus is to provide the best priced, locally made pellet fuel and stoves, we are pleased to now offer wood and natural-gas heating, as well as a wide variety of green building products. We will be focusing on reclaimed and beetle-kill wood products at first and hope to bring in reclaimed stone, bricks and building materials early this spring," said founder Rosalie Bianco. 
The new product lines include beautiful blue-stained beetle-kill flooring, siding, paneling and fencing. Through a variety of partnerships with local mills and artisans, New Earth Green Depot now offers unique, hand-crafted mantels, furniture, beetle-kill and reclaimed-wood cabinetry, bamboo and cork flooring, and much more.
"New Earth Green Depot remains committed to our environment on a local, national and global scale, and we offer residents green solutions that ultimately help them save money and our planet," added Bianco. "Renewable energy solutions—such as our high-efficiency pellet stoves—are a great example. With more than 4 million acres of beetle-kill trees in Colorado, wood pellets are a viable, powerful heating fuel, which offers a money-saving alternative to propane and electricity."
In addition to burning hotter and ultimately costing less than other heating options, wood pellets are a local green alternative. The CO2 that is released from burning pellets is the same as what would be released into the air if the trees were left to decompose. 
And, Bianco said, burning pellet fuel can save as much as 50% of a home's heating bill. 
The Depot offers financing options for residents starting as low as $0/down, $39/month.
"The pine-beetle epidemic is not going away, and since Day 1 our team has been dedicated to making a difference and creating a local solution to deal with this problem. We're helping our neighbors to change energy paradigms and recognize that we have a reliable, earth-friendly fuel source right here in Colorado within these dead, beetle-kill trees," added Bianco. 
New Earth Pellets manufactures its wood pellets in Silver Plume, Colo., which means "the company can offer the highest quality pellets money can buy, at the lowest possible price.  In addition, they offer convenient pick-up and delivery services through numerous satellite locations in neighboring counties," she said.
Visit New Earth Green Depot's showroom – located at 950 Simms St. in Lakewood. For details and showroom hours, visit www.newearthgreendepot.com or call 303-202-9663.
---
---