Hearthfire Books: Try risotto and artichoke hearts

10/03/2011 11:32, Published by Jacqueline, Categories:
---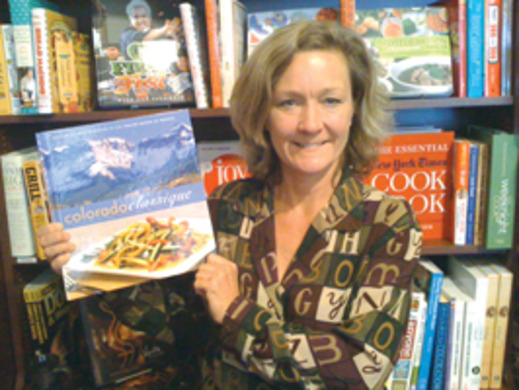 ---
---
—Hearthfire Books—
How about some risotto with artichoke hearts?
by Kappy Kling
For many of us, cooking conjures up comfort—meals around the table with family, a romantic dinner for your loved one, special events (large and small) with friends, laughing in the kitchen with your children as they manage to spill an entire bowl of brownie recipe all over your kitchen floor…
Many of my Evergreen friends are excellent cooks and make the simplest meal elegant. However, a few us just don't have that gift. Thankfully, there are some amazing cookbooks that help us with "our special challenge."    
Let's start with perennial favorites—the Denver Junior League cookbooks—which have been unique Colorado classics since Colorado Cache was published more than 30 years ago.  The following recipe is from the Colorado Classique. This recipe is a winner because of its versatility. I've served it to vegetarian friends by substituting vegetable broth for chicken broth and have added salmon, tuna or chicken for a heartier meal. Simple, elegant and loved by all.  
Risotto with Artichoke Hearts 
Serves 6  Prep time: less than 30 minutes
Cook time: approximately 30 minutes
2-14 oz cans artichoke hearts, drained and quartered
1/2 yellow onion, chopped
2 cups frozen peas, thawed
2 teaspoons chopped fresh dill
Sauté garlic and onions in olive oil and butter until softened. Add rice and sauté until translucent. Add enough broth to cover rice. Simmer over medium heat until broth is almost completely absorbed. Continue to add broth, about 1 cup at a time, and simmer until broth is absorbed and rice is tender. Add artichokes, peas, dill and lemon zest. Cook until heated through. Mix in Parmesan cheese and serve.
Evergreen has a few transplants in the area who have found baking, or even cooking, at high altitude challenging. Guess what; you're not alone. To the rescue is Baking at High Altitude and Pie in the Sky.     
With all the beauty around us, we tend to be a fit, active and aware bunch. The good news is we can still eat great AND healthy! A few recommendations are Incredibly Easy Gluten-Free Recipes, Fix-It-and-Forget-It Diabetic Cookbook, and Get Healthy, Go Vegan.  And if you want to spice it up, you can't beat my favorite, the Green Chile Bible. 
For the best fun, combine the pleasure of reading and cooking with Evergreen's own Diane Mott Davidson's mystery series. If you haven't read these books, do yourself a favor. They are fun, the recipes are great, and, best yet, they work for us foothills folk!   
Kappy Kling is the owner of HearthFire Books of Evergreen, an independent bookstore in the Bergen Village Shopping Center offering lots of cookbooks, of course. The address is 1254 Bergen Parkway, Evergreen, CO 80439. Call 303-670-4549 or visit www.hearthfirebooks.com.
---
---