Haley's Closet — consignment store for the entire family

10/27/2011 15:37, Published by Jacqueline, Categories:
---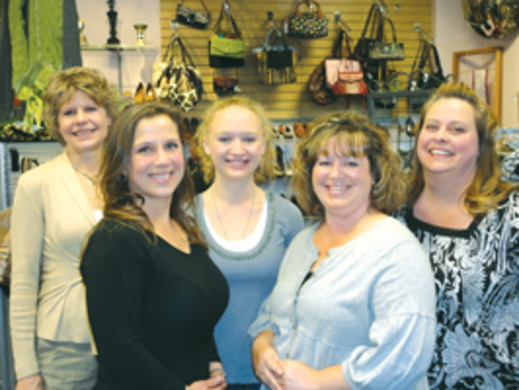 ---
---
Owner Dana port, second from left, and her staff
by Robyn Johnson
Since opening their doors a little over a year and a half ago, Haley's Closet has created a sweet spot within the community. The family consignment store not only stocks the racks with a little bit of everything for the whole family, but also provides a win-win situation for their more than 800 consignors.
After being open for only four months, Haley's Closet owner Dana Port more than doubled the square footage of her retail space. She teamed up with Holly Jensen, owner of Little Britches Boutique, to bring in consigned and new children's clothing, toys, shoes, maternity, and art supplies.Together, the two have created a one-stop shop for the whole family.
Haley's Closet is currently accepting seasonal, gently used clothing. "Even if you're not sure about something, bring it in and we'll take a look at it. Just make sure it's freshly laundered." Dana added. While her bright smile welcomes you, her sharp eyes and keen sense of fashion quickly determine what will sell in her store. Consignors are asked to call for an appointment if they have more than five items to consign.
The store features everything from one-of-a-kind cocktail dresses and classic wardrobe pieces to barely worn jeans, jackets and shoes. They've even started getting some sports equipment in the store for both children and adults, including skis/ski boots, ice skates, dance shoes and attire, as well as cleats.
In addition to their extensive women's section which includes plus sizes, Haley's Closet has dedicated men's and juniors' sections. They also feature a number of local artisans, such as Debeeze Honey, DKCO Jewelry, Evergreen Candleworks and Bodacious Baubles, plus new lines such as Chamilia Beads, Woodwick Candles, Desert Gardens Mixes & Dips, Lindsay Phillips Switchflops and more.
Once a month, the store plans an open house featuring up to 75% off. If that's not enough, take a look on the back of your grocery receipts and all the local publications for additional coupons.
"I have a serious addiction to my store. It's not an addiction to clothing or shopping, but to helping people in this community." Dana said.
She and her dedicated staff including Patti, Amanda, Deb and Christine hear many life stories through their work. They are happy to be in a position to be able to help in some way.
Dana is always looking for new charities or local organizations to donate the items she is unable to sell. If a consignor's item isn't sold by 60 days, it automatically becomes the store's property. Dana then decides to donate it or hold on to it, yet another way she is able to contribute to the livelihood of the community.
Haley's Closet at 25797 Conifer Road C-100A is open seven days a week M–F 10-6, Saturday 10-5 and Sunday 11-4. Call 303-816-9757 or visit www.haleysclosetconifer.com.

---
---