Chances Scholarships: help for Bailey students

10/27/2011 11:12, Published by Jacqueline, Categories:
---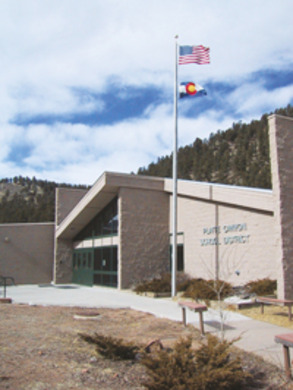 ---
---
by Margo Hamilton
"Pay it forward" is an adage Heather Howard took seriously from the time she was a teen.
"I was awarded a scholarship through Boot Straps, which turned my life around. Boot Straps provides financial assistance for the purpose of higher education to students from Conifer High School and Evergreen High School. As a student, I had low grades and did not perform well, but I had potential which was recognized. I couldn't have made it through college without the financial assistance and belief Bootstraps provided to me."
As the mother of two sons, Heather recognized there was a need to help Platte Canyon High School students when her boys were preparing to graduate. She explained, "I met students who had the drive and desire to continue their education after high school, but their grades were low and financial support was not available. In tough times, many parents are laid off, and other families make too much money, which disqualifies their children from receiving financial assistance. Kids are desperate for a chance. That's why I started Platte Canyon High School Chances Scholarship."
For the past eight years, Chances Scholarship has provided 48 kids with scholarships from $200 to $1,000 for Platte Canyon High School students. Why does Chances Scholarships limit their support to students from Platte Canyon High School? Good question, with a heart-wrenching answer.
The community of Bailey is small, and the kids who live there have a unique lifestyle, much the same as their counterparts in Evergreen and Conifer—but very different. Bailey is rural, further away from city life, and kids spend more time together as there's little else to do. Their bond is tight and friendships often last for a lifetime. When tragedy strikes any small community, the reverberation is strongly felt and widely known. When two Platte Canyon High School students tragically lost their lives, the need for recovery continues.
Kjersti Anderson, killed in a car accident near Como, and Emily Keyes, tragically killed by a gunman's bullet on school grounds, shook the core of the community, and Emily's death literally shocked the world. Both girls are remembered and mourned to this day, and for their friends who knew them and students who didn't, the shock of their deaths continues to impact people of all ages in different ways.
"Kids still have the need to talk about what happened to Kjersti and Emily," Heather said. "Platte Canyon High School students apply for Chances Scholarships, and part of the process is to be interviewed by our panel. Each and every student has touched us deeply with their stories both their past, present and future. The media exploits and sensationalizes what's wrong in this world, but when you talk to these kids, you see the future is in good hands. Two sisters applied for Chances Scholarships, with a unique twist. The older sister has multiple sclerosis and found going to college physically challenging, so her younger sister applied for a scholarship to attend the same school to help her sister."
Chances Scholarship provides a variety of volunteer opportunities. Join the fun in selling flowers to raise funds, be part of the interview panel to select students who will be awarded scholarships, or help with their annual fund-raiser and silent auction. Contact Heather directly at 303-918-6656 to learn more, and remember Platte Canyon High School students by making a financial contribution to this amazing scholarship program through Platte Canyon Area Chamber, as it is a vital part of supporting and administrating the scholarships.
Donations can be sent to the Platte Canyon Area Chamber at P.O. Box 477, Bailey, CO 80421.
---
---