It's more than putting your foot behind your ear!

12/06/2011 17:57, Published by Jacqueline, Categories: Health+Wellness
---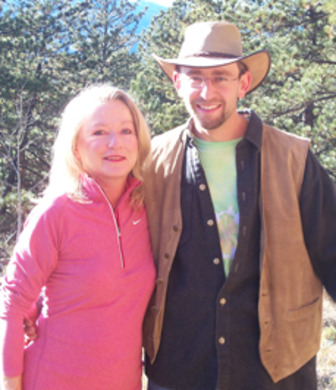 ---
---
Sophia Paul and her grown son Kevin
by Sophia Paul

The third day after our son Kevin was born turned out to be a devastating day. A heart murmur was discovered. He was scheduled immediately for a procedure to find out what exactly the issue was.
Fear and desperation crept up in me. BREATHE—is all I could think.
The diagnosis was even more disheartening: a very complicated heart defect, a 50/50 chance to survive his first year, and no surgery available at the time.
We were crushed, but I was determined that my little boy would live and thrive! I read everything I could get my hands on that dealt with alternative ways to feed him, and I decided to nurse him for as long as possible as that provided the best nutrition for him.
We took him home. I meditated while nursing my son. I kept him close in a baby sling, giving him love, health, strength twenty-four/seven. I knew that my love would get us through this. I had done it before with my oldest son, and it had to work again.
I continued my regular meditation routine, which allowed me to nurture myself and gain my strength back, to be the support that I needed to be for my family…but he ended up in the hospital.
I pick up the story in the following excerpt from my new book, "It's Not About Putting Your Foot Behind Your Ear—An Inspiring Journey of Transformation Through Yoga."
Edited excerpt from Chapter 6: The Dreaded Day Turns into a New Life:
Our son was laying on the operating table, cut open, on life-support while they were talking to us. I freaked for a moment, but the next second I calmed down. I knew this was the solution I had been praying for. We quickly got the scope on why and what type of surgery. And as I had prayed and hoped, there was a better option for our son that would promise a much more desirable outcome. Of course we decided fast and gave our permission to go ahead.
I went back into my meditation, this time even more sure of the perfect outcome. Maybe I even had an "out of body" experience as I felt very close to my little boy. I was holding his hand, softly singing to him, telling him to hang on and that all would be OK.
Today, he's a grown man, married with two children.
Sophia S. Paul is a naturopath, Reiki master teacher and a certified yoga instructor. Her book, "It's not about putting your foot behind your ear—an inspiring journey of transformation through Yoga," demonstrates how the simplicity of yoga and a holistic lifestyle can transform your life into one of peace, health and happiness. She lives in Bailey. Visit www.sophiapaul.com or http://authorspaul.authorsxpress.com/.
---
---