Highland Haven: Johnny Depp & more...

01/06/2012 12:29, Published by Jacqueline, Categories:
---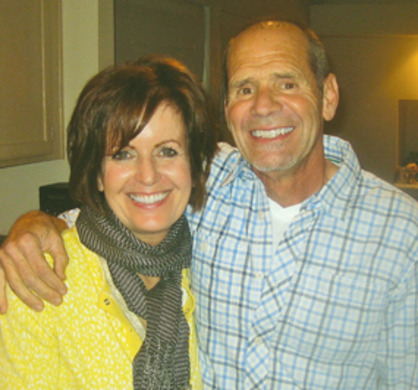 ---
---
Gail Riley & Tom Statzell, Highland Haven owners and more...
by Margo Hamilton

Yes, it is true that Johnny Depp was in Evergreen amid much secrecy and security. Mr. Depp stayed at the Highland Haven; the owners, Tom Statzell and Gaily Riley, signed legal documents agreeing to the confidential requirements of his visit.
The award-winning actor was celebrating the engagement of dear friends in the romantic setting of Highland Haven and Evergreen.
But there's more romance at Highland Haven than Johnny Depp.
United in life and love, Tom Statzell's and Gail Riley's love affair began when both were students at Purdue University and has never lessened throughout their 40-plus-year romance, as they were, and still are "forever be in love."*
"We were both enrolled in a French class, and we definitely noticed each other right away. Our class was so large that students were asked to volunteer to move to a newly created class," Gail recalled "I kept my eye on Tom, knowing if he went to the new class, so would I."
Meanwhile, Tom had formulated his own plan to ensure the beautiful freshman would be his. "I was a member of a fraternity and Gail was in a sorority, and we had a dance for our 'little sisters,' and I asked Gail."
Both were born and raised in Indiana, and when Tom completed his degree in psychology and Gail completed her degree in art and graphic design, they exchanged their Midwestern lifestyle for an exciting life in San Francisco. After settling on the West Coast in 1973, Tom went back to school to become certified to work and fly Cessna single-engine planes, but through another twist that would become a lifetime passion, Tom pursued a career in designing and building custom cabinetry while Gail managed art galleries.
The couple married in 1975, and it was a Chicago friend who introduced them to Evergreen in 1977.
"Our friends were being transferred from Chicago to Denver, and they decided to make Evergreen their home," Tom said. "Their home wasn't ready for them to move into, so we stayed with them at the Highland Haven. When we were preparing to return to San Francisco, we told the owners of Highland Haven to give us a call if they ever wanted to sell." They bought Highland Haven in 1979.
From day one Tom and Gail consider themselves "lucky" to live in Evergreen and found the summer busy season "thrilling." It took time to build Highland Haven into the thriving inn it is today, and as two children came into their lives, daughter Roxy was born in 1980 and their son, Jaxon, in 1985, money was scarce, but their passion for their business, their family and each other kept them united.
Tom was using his honed craft as a custom cabinet maker and created spectacular custom kitchens for clients throughout Denver while Gail was running the inn during the day and becoming known for her culinary talents. Their skills complemented each other and combined, Tom and Gail have transformed Highland Haven from a sleepy little mountain inn to a thriving and well-known bed and breakfast that now requires advanced reservations, and, yes caters to the likes of Johnny Depp, who reportedly hid himself in disguises while in Evergreen.
Through it all, Tom and Gail kept their love alive while creating a business they both believe in and love. "We were always in agreement that our money would go into our business and be used to continue improving and rebuilding every inch of Highland Haven," Gail shared. "And we've always been there for one another," Tom chimed in, "We couldn't be more grateful for our Evergreen lifestyle. It was the perfect place to raise our kids, and we enjoyed being with them every moment throughout their childhood."
Showcasing Tom's wood-working artistry and Gail's culinary talents, Highland Haven has won numerous awards, including being named one of the Top Ten Most Romantic Cottages by Sunset Magazine.
Gail published an award-winning book, "Colorado Cravings: Recipes and Romance" and her second book, "Colorado Romance: Love Notes and Recipes for Happiness" is from journals placed in the inn's rooms that provides guests the opportunity to write about their experiences and how they felt during their stay in Evergreen. Gail claimed, "I've been touched by the tenderness, warmth and optimism from couples who have stayed at Highland Haven and the insights they wrote in the journals."
Their love of their business and Evergreen are being passed to the next generation; daughter Roxy and her husband are now managing Highland Haven. But Tom and Gail continue to work daily beside one another and embrace the opportunity to work with Roxy and her husband.
Both recently turned 60, and although neither looks or feels like they've reached their sixth decade of life, Gail mused, "As we've gotten older Tom and I have noticed our perspectives on life is deeper, more meaningful and our relationship much more important to both of us." Tom's anniversary gift to Gail was to celebrate Gail's birthday in France.
"We've had a unique lifestyle that has become our life," Tom said. They believe the secret to a never-ending love includes "keeping physically fit for one another. Find what you love to do. And if you can, work by the side of your spouse, and do it in Evergreen."
---
---