Artists join forces in Bailey

01/09/2012 16:44, Published by Jacqueline, Categories:
---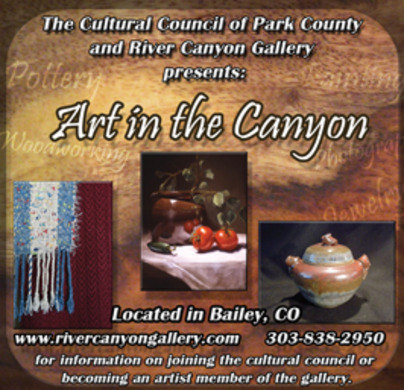 ---
---
by Ellen Campa
In the autumn of 2009 the board of the Cultural Council of Park County (CCPC) began a journey none of its members ever expected. All of us—artists and crafts-persons— felt we had a responsibility to create programs to enrich the cultural atmosphere in our community. 
While putting together a directory of artists and venues in the area we realized there were enough creative souls to support a gallery as a venue for our work and an asset to our community as a business and a place for our neighbors to enjoy the fruits of our labors. 
We began contacting fellow artists and those who support the arts in our community and had many meetings in the Park County Library in Bailey forming a working idea of a new business created from a coalition of home-based businesses.
I began my own weaving business the year before and had been questioned by family and friends as to the wisdom of turning my hobby into a business considering the state of the economy.
I knew the terror of the possibility of failure and success.
More than putting out a good woven product was the business end of marketing, finances and finding venues for my work. The prospect of being part of a gallery had the same fears and hopes, but here was a very focused, talented group of people to work with and take the risks together as a group. 
Beyond whatever talents our group had as artists, nearly all of us had worked in other occupations and brought those skills to the formation of a gallery. Over the course of several months we had people come and go to see if we were a good fit or if we were actually going to put something viable together.
Whatever the general impression many people have of artists as flakes or dreamers – they are much mistaken.
Rhonda Davis is not only an imaginative potter, but in her other life she's a paralegal. Those skills were helpful getting the gallery started.
Mike Felix turns beautiful wooden bowls and tirelessly put together the physical space and can build or fix anything.
Rory May is not only an accomplished blacksmith but has a degree in graphic design and animation. He created a brand for us through ads, post cards, flyers, posters and a website.
We opened our doors as River Canyon Gallery, an Artist's Co-operative, in May 2010 with a ribbon-cutting ceremony sponsored by The Platte Canyon Area Chamber of Commerce, of which the CCPC and the gallery are members.
We have felt strongly from the inception of the gallery that as a program of the CCPC we had to commit to participating and supporting the arts in our schools through art supply drives and sponsoring student art shows.
We work with other nonprofits such as the Mountain Resource Center and its Empty Bowl Project that our gallery potters, Rhonda and Alice Pierson, support by assisting student potters and coordinating events. As a business in Rustic Square we have been working partners in the annual Cowboy Christmas, a community event to bring in the holiday season.
In September of this year we expanded into the space next to the opening gallery and are one-and-a-half times bigger. That too was a scary move, but with the support of our community we felt it was time to grow and open up space for more artists.
Every member is a partner, and we have managed to work our home businesses into a retail space that expands our exposure. My favorite place to be after my own studio is the gallery to enjoy the many forms of art and fine craftsmanship my partners have to offer. We actually do stand around and talk about our muses and have blended genres and have learned so much about what each other makes and how they make it that it enhances our own work.
We began with nine members and have grown. Our member roster, people working out of their home studios and work-shops is: Con Daily/photography, Kae Webster/photography, Alice Pierson/pottery, Ellen Campa/textiles, Rhonda Davis/pottery, Michael Felix/wood, Michael Shaft/wood, Rory May/blacksmith, Susan Kriz/beadwork, Margaret Jaeger/textiles, Mary Jane Lawhon/oil painting, Terry Calhoun/jewelry, JA Roberts/multi-media, Linda Hatcher/fused glass, Karen McHugh/photography, Michelle DiGiacamo/water colors, Willie Partridge/chain-saw carving, Mary Chan/art glass, Shawn Janecek/jewelry, Pat Ludwig /pottery.
Come see the talent nurtured in our beautiful canyon in Rustic Square, Bailey.
For information or to view art, visit rivercanyongallery.com.

---
---