Internationally recognized artist's 'Desert Barnacle' cowboy graces the cover

02/01/2012 14:23, Published by Jacqueline, Categories:
---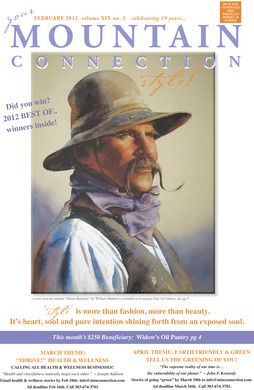 ---
---
by Barbara Hadley, Evergreen Fine Art Gallery co-owner
Featured on the cover of this month's Mountain Connection is William Matthews' print "Desert Barnacle" available at Evergreen Fine Arts Gallery.
The model for Desert Barnacle is Roger Bates, a working cowboy from the ZX Ranch in eastern Oregon.
He's an independent sort who lives an isolated life at a cow camp in the desert accompanied only by his two dogs and his string of horses.
The published monograph "Cowboys & Images: The Watercolors of William Matthews" features a decade of the artist's work devoted to the subject of working cowboys from the great ranches of the American West.
Forbes FYI Magazine hailed him as the new Remington of American painting.
An internationally recognized watercolorist, Matthews was born in 1949 in New York City. He grew up in the San Francisco Bay area, and currently lives in the Colorado foothills near Evergreen.
Matthews' paintings are widely exhibited nationally and internationally.
His work has been part of two Meridian International Center curated exhibitions: Out West: The Great American Landscape, 2007-2008, and True Colors: Meditation on the American Spirit, 2000-2005.
Other venues include: the National Art Museum of China; Shanghai Art Museum; Hong Kong Heritage Discovery Center; the Topkapi Palace, Istanbul; the Allied Museum, Berlin; National Gallery of the Arts, Albania; and Millennium Court Arts Center, Northern Ireland.
His work is included in numerous private and public collections including, Museum of the West, Autry National Center; Buffalo Bill Historical Center; Eiteljorg Museum; The National Cowboy Hall of Fame; Gilcrease Museum; Joslyn Museum; Booth Western Art Museum; Phoenix Art Museum; Tucson Museum of Art; and the Denver Art Museum. He continues to win national and international awards, and his work is widely collected by Western art lovers.
William Matthews' iris prints are available at Evergreen Fine Art Gallery and Sculpture Garden, 3042 Evergreen Parkway, Evergreen. 303-679-3610, www.evergreenfineart.com.
These fine prints, made from his original watercolors virtually undistinguishable from the original, are done in editions of only 50; and when the edition is sold out, there are no more.
Because of their scarcity, they have continued to increase in value, as have his original watercolors.
Major upcoming events at Evergreen Fine Art include the prestigious Oil Painters of America National Juried Exhibition beginning June 22 and our annual Weekend in the West event Aug. 24 & 25.
Evergreen Fine Art Academy offers both workshops and on going classes featuring small groups and individual instruction from some of the nation's top artists. Classes are held in a beautiful space with wonderful natural light. All levels from beginner to advanced are welcome.
Barbara Hadley and her husband, Phil Shanley, own and operate Evergreen Fine Art Gallery and Sculpture Garden at 3042 Evergreen Parkway. Visit www.evergreen
fineart.com or call 303-679-3610.
---
---