New owner for Stoneheart Gallery; grand opening Feb 25

02/04/2012 12:19, Published by Jacqueline, Categories:
---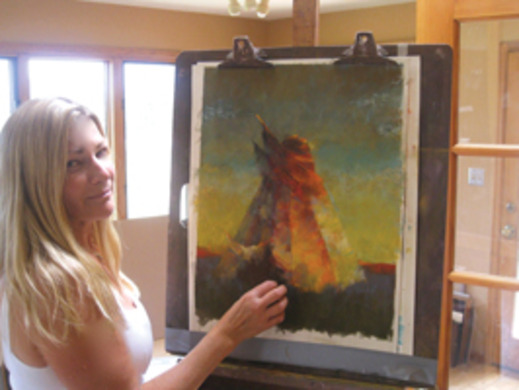 ---
---
by Robyn Johnson
The New Year has brought light to Julianne Miller's dream of owning an art gallery. As the new owner of Stoneheart Gallery in downtown Evergreen, she has plans to not only bring in new artists and diversify the gallery's collection, but to also focus on her own painting and teach art classes.
Julianne has been immersed in the world of art throughout her entire life. Her mother, an art teacher, was responsible for introducing her to the many faces of art. She took her own interests to a new level when she began a 20-year career in advertising and commercial art. She never imagined herself painting within the walls of fine art.
Her world changed 12 years ago when her mother passed away, leaving her trusted collection of pastels behind. Julianne used the pastels as a diversion from her grief. Little did she know that she would use the pastels for the same reasons in the coming years when her husband was diagnosed with pancreatic cancer.
In the midst of taking care of their five children, one of which was a newborn, and running her husband's business, she found herself at the easel. Her painting was an integral part of how she was able to deal with the grief of losing her husband.
Julianne began showing her artwork in galleries around the state, including Telluride, Crested Butte, Salida and Denver. As she began to win awards and sell some pieces, she realized a new chapter of her life has opened.
Last summer, Julianne happened to stop in to Stoneheart Gallery and had a conversation with Mark Anthony King, the previous owner. They exchanged information and around Thanksgiving Mark called to see if she was still interested in possibly purchasing the gallery.
Mark will miss Stoneheart, but is happy that the gallery will continue to live in the heart of Evergreen. He is also moving on to an exciting new chapter in his life, opening Muse Fine Art Gallery in downtown Denver by the Denver Art Museum.
While keeping the same artists at Stoneheart Gallery, it's also important to Julianne to bring in new artists, local and national. "I love exploring different art and artists," she said. She will bring in some mixed media, including fiber arts and clay to create a diverse collection of both media and subject matter. "In this economy," she said, "it's also important to me to offer a variety of artwork in a wide range of prices."
Following in her mother's footsteps, Julianne plans to teach art classes and workshops to artists of all ages and levels. A unique class she intends to include on the schedule is a painting class to help others work through their grief. Through her own experience, she recognizes how therapeutic painting can be during times of sorrow.
Stoneheart Gallery will hold a grand opening on Feb. 25, which coincides with the monthly Friday Night Gallery Walk. Visit www.stoneheartgallery.com and www.juliannemiller.com or call the gallery at 303-670-0565.
---
---