Hunger never takes a holiday

02/07/2012 10:08, Published by Jacqueline, Categories:
---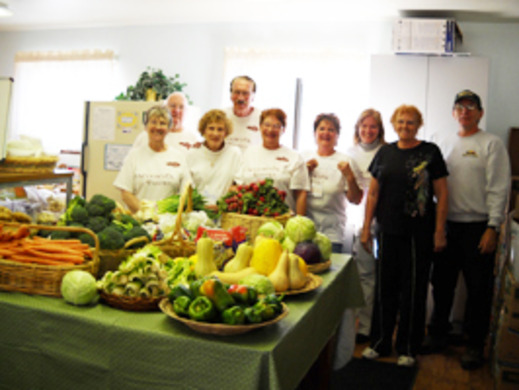 ---
---
by Margo Hamilton

Widow's Oil Pantry is tucked away in Harris Park at the foot of Mount Rosalie in beautiful Bailey, Colorado. The mission of this amazing food bank is to provide food for people who are facing financial hardships.
The pantry's director, Bill Tarrant, and 11 tender-hearted, dedicated and compassionate volunteers serve faithfully as they have seen the staggering need and amazing growth this dynamic nonprofit is experiencing.
"The pantry started in October 2007, and we provided food to seven families on a weekly basis. Then it grew to over to 20 families a week, and now over 100 families come weekly to Widow's Oil Pantry, and the need and the numbers continue to grow."
In 2011, the pantry provided food to 4,896 people, and that number is expected to rise in 2012 as boomerang children are moving back to live with their parents due to the loss of jobs that are not easily replaced. Often they move back home with their spouses and children, causing parents and their adult children alike to become hard-pressed to provide food, shelter and make ends meet.
Retirees living on fixed incomes are also strapped to pay the bills and often can't afford to maintain healthy diets. With no means to add to their meager income, financial cutbacks reduce essentials, such as fresh fruits, vegetables and meat. Bill told this heartbreaking story: "A widow in her 80s came to the pantry and I gave her fresh hamburger. She started to cry, telling me she has not had fresh meat to eat in over a year. There is so much need." And with that Bill's words ceased for a moment as his emotions reveal what he and the pantry volunteers hold in their hearts about the rewards and the reality of their mission.
The pantry volunteers take this cause very seriously and work 25 to 30 unpaid hours every week. "We ensure the pantry provides food that we would serve our own families," Bill said. "We buy from Food Bank of the Rockies when funds are available, and we pay a small administration fee to King Soopers; however, due to corporate policy, we get no produce from either King Soopers or Safeway. We are very thankful that Safeway's corporate office does give us small gift cards from time to time, which we use to buy food items as we see fit. We try hard to stay away from macaroni and cheese, as we think this is junk food. We ensure everyone who comes to the pantry is provided cottage cheese, milk, fruits, vegetables and meat. One of our volunteers is dedicated and devoted to daily search the internet to find quality food at the lowest cost."
Accountability is essential for any nonprofit entity, and since their inception in 2007, the pantry has recorded every penny it has received and spent, and tracked every ounce of food purchased and donated. To ensure continued accuracy, a new pedestal scale to weigh food is needed. Their wish list also includes an electric pencil sharpener and gas cards, as they pay nearly $400 a month in gasoline to compensate volunteers' gas costs when they go to the stores and food bank to get food. Game meat, as long as it is processed and dated, may be donated, but please do not donate out-of-date food.
Widow's Oil Pantry is located in Harris Park Bible Church, 2257 Shelton Drive, Bailey, CO 80421-1450, and is open every Thursday from 3:30 to 5:30 pm during the winter and 4 to 6 pm during the summer's Daylight Savings time. Please dig deep in your hearts and your pockets to ensure this mission of the Pantry thrives in 2012. Call 303 838-1869 or 303 838-0987 or email Bill at bjtarrant9@hotmail.com.
Mountain Connection donates $250 every month to the local nonprofit featured on this page through the Mountain Connection Beneficiary Program. To date, Mountain Connection has donated over $93,000. Evergreen resident Margo Hamilton is the volunteer beneficiary coordinator for theMountain Connection. She has extensive background working with nonprofits and writes to help people better understand each other.
---
---