Homestead is everlasting gift to all

02/29/2012 12:26, Published by Jacqueline, Categories:
---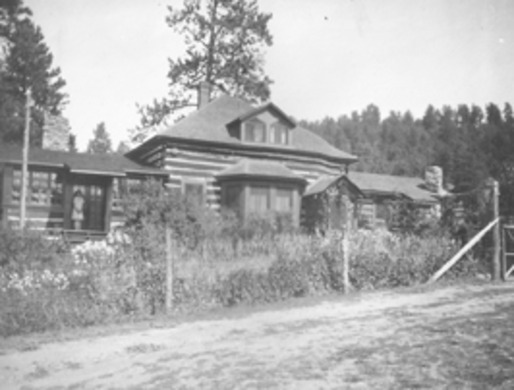 ---
---
–HUMPHREY MEMORIAL MUSEUM & PARK—
The Humphrey ranch in 1927, courtesy of the Humphrey Memorial Park & Museum
by Margo Hamilton
Gone are the days when neighbors gathered to bake bread, build barns, relax in rockers and have a rousing game of checkers on the front porch. However, the Humphrey Memorial Park and Museum is striving to re-create the fun and folly of simpler times of days gone by. Museum Executive Director Angela Rayne explained, "We're trying to bring back the spirit of the 1930s and 1940s when people gathered for socials in homes and enjoyed being in the outdoors soaking in the scenery."
Humphrey Memorial Park and Museum is presenting classes and events to draw you into the warmth, history and nostalgia that lingers in the legend and folklore of Kinnikinnik Ranch.
Every Saturday you will get hands-on experience on how to make old-fashioned goodies, such as cheese, bread, pasta and even home brewing from beer, ales and root beers. Wednesdays' textile classes will cultivate the couture in you through fashions and fabrics. Fridays will immerse you into the creation of natural cleaning products, beauty oils and other natural household and beauty products.
The Humphrey family is legendary beyond Evergreen boundaries. Hazel was the daughter of D. Harry Hammer, a wealthy judge from Chicago. Her mother, Mary Amaryllis Hammer, was a well-known socialite in Chicago who traveled all over the world collecting art, textiles, china, porcelain, furniture and other curiosities.
Visitors to the Humphrey Museum are fortunate to see many of those fabulous pieces. Hazel was well-educated and attended English boarding schools. She also traveled extensively with her mother, and when she settled in Colorado, she married Lucius Humphrey, a newspaper man from Denver in 1917.
Lucius "Lee" Humphrey commuted to Denver where he was the editor of the Denver Republican and later worked for the Denver Post as a copy reader, reporter, editor and finally columnist until his death Jan. 29, 1946. Deemed Evergreen's first commuter, Lucius logged more than half a million miles on his treks to Denver from 1921 until his death.
The Humphrey Ranch was first developed by J.J. Clarke who raised cattle on the land and built a small cabin that still exists.
When Hazel and Lee purchased the ranch in 1920, strategic changes took place as the progressive pair were both vegetarians and environmentalists. No longer a cattle ranch, the Humphrey's prized stock became chickens, goats and their well-loved cats. To replicate the authentic home, three cats now call the museum home, and this summer goats and chickens will take up residence.
Lee and Hazel had but one child, daughter Hazel Lou Humphrey, who was an accomplished horsewoman and inherited her parents' love of Evergreen. She was very civic minded and to this day Hazel Lou is fondly remembered for being one of the founders of the Jefferson County Historical Society, which valiantly helped save what is now the Hiwan Homestead Museum from being torn down for development.
It was Hazel Lou's vision that her ranch and home become a museum, and upon her death in 1995, she left a trust fund and a will that created what is now the Humphrey Memorial Park and Museum.
Join the passion by working on the historic Jim and Joe Trail. Donate wooden games and wrought iron furniture. Throughout March you can learn to crochet cable knit scarf, bake Irish soda bread, create Irish crème yogurt and have an Irish tea party.
Visit www.hmph.org or call 303-674-5429. 
---
---