Custom works-of-art jewelry, unique timepieces

02/29/2012 14:09, Published by Jacqueline, Categories:
---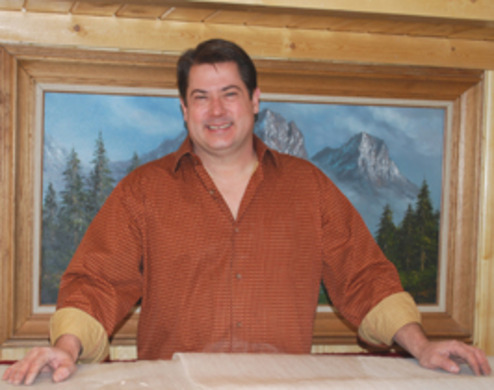 ---
---
—MOUNTAIN GEM LTD—
Bryan Williamson opens Mountain Gems in Conifer, offering original designs and consignment program for jewelry
by Jo Ann M. Colton

Mountain Gems Ltd., located at 26001 Main Street in Conifer, is a jewelry store that is truly a golden addition to our mountain community. This new customer service-oriented business offers distinctive jewelry creations by Bryan Williamson (owner, master jeweler, certified appraiser and multi-award-winning jewelry designer), but also because of the facility's extraordinary casual and inviting mountain design interior and ample use of wood, rocks and stone.
"I did all the interior work myself," said local resident Williamson, who is obviously a superior building craftsman as well.
His love affair with jewelry and gems began as a 19-year-old college student studying sculpture. When Bryan took a jewelry class elective, he immediately fell in love with the craft, which he viewed as his way of doing sculpture on a small scale.
Williamson received his bachelor's of fine arts in metal smithing and jewelry design in 1990 from the University of Kansas at Lawrence and later a master's degree in 2001 from the Gemological Institute of America as a graduate gemologist.
After college he toured the Midwest and West supporting himself through his participation in art shows. He worked for eight other jewelers (including Christensen) as a bench jeweler before opening his own store in 1993, Gemesis Jewelers in Breckenridge, at age 24.  Williamson eventually moved Gemesis Jewelers to Denver spending 10 years at 88th Avenue and Wadsworth Boulevard prior to moving the store again in 2000 to Las Vegas where he maintained it for another 10 years.
Mountain Gems Ltd. offers everything from appraisals, basic-to-major repairs (including some watch work), trade-in/trade-up policies, lifetime warranties on all its products, free replacement of side stones and more.
He brings a strong emphasis on custom work from replicating old jewelry to creating modern designs. His inventory features not only Williamson's work, but also work of other local artists; designer jewelry; and manufactured goods in silver, gold, and platinum.
"Silver is the new white metal now because gold is so volatile," said Williamson, who is an authorized gold buyer and uses Colorado gold in his personal custom work.
Bryan Williamson provides personalized, one-on-one service to his customers, featuring a consignment program for customers who choose not to liquidate their jewelry, thus netting them values closer to retail rather than pawn prices.
Mountain Gems Ltd. is open T-F 10-6; Sat. 10-4 (closed S-M). The store's March 24th grand opening celebration will be catered by Williamson's cousin Tony Buccelli of J.J. Madwell's.
For more information, visit www.mountaingemsltd.com and/or contact Bryan Williamson at 303-838-0445.
---
---