Rolfing relieves the force of gravity

03/07/2012 15:47, Published by Jacqueline, Categories: Health+Wellness
---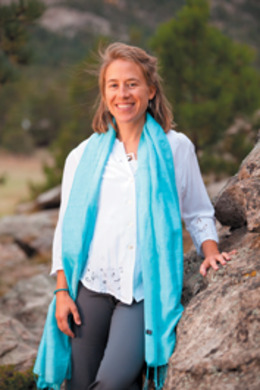 ---
---
—EVERGREEN ROLFING—

Rolfer Anna Timmons
by Robyn Johnson
While there are many conventional and alternative methods of treatment for chronic pain, poor posture, injuries and stress, Evergreen Rolfing presents a specialized technique that has the ability to ease pain and improve posture, flexibility, coordination and balance.
Colorado native Anna Timmons had a career in graphic design but felt it wasn't her true calling. It was not until she found herself on a quest to relieve the chronic pain in her hamstring while training for an endurance mountain bike race that she discovered what she was really meant to do.
After trying several conventional and alternative modes of treatment, she was referred to a "Rolfer" in Denver. She was amazed at the way she felt after leaving each Rolfing session.
"I felt open, light and even taller," Anna explained. It was her Rolfer who suggested she become one herself. Three years later, she enrolled in a 1½ year training program in Boulder at the Rolf Institute of Structural Integration, one of the few Rolfing programs in the world.
The term Rolfing comes from its founder and developer, Dr. Ida Rolf. As a true pioneer, she received her doctorate in biochemistry in 1920 and dedicated her life to homeopathy, osteopathy, yoga and other alternative treatment modes. She was always interested in "how we function in gravity?"
Founded on the idea that human beings are connected from head to toe, the systematic approach reorganizes and manipulates soft tissue known as fascia in order to release, realign and balance the body as a whole. Through hands-on therapy and movement education, a client's entire posture and structure can be improved.
"Rolfers look to create space within the body. Our goal is for each client to move and be in gravity without having to put effort into it all the time," Anna explained.
Rolfing is based on a 10-session series, each session being 60 to 75 minutes. At the beginning and end of each session the Rolfer conducts an evaluation simply by looking at the client's body and how it moves. The Rolfer follows a "recipe," but adjusts the recipe for each unique body. Each session builds on and prepares the body for the next session.
Unlike a massage, a Rolfing session has frequent communication between the client and Rolfer; a cooperative effort. While being asked to make specific movements, a client needs to tune into his or her body and communicate while the Rolfer stretches connective tissue.
From chronic pain and job related injuries to athletes with overuse injuries and elderly experiencing structural aging, anyone can benefit from Rolfing. It can also benefit those who would like to deepen their meditation, yoga, Tai Chi or Pilates practice, and athletes who wish to improve their performance.
Evergreen Rolfing is located along with Szuch Zone Training next to Whispering Pines Day Spa in Bergen Village. Call 303-807-4980 or visit www.evergreenrolfing.com.
 
---
---