Naturopathic center helps patients 'own their health'

03/07/2012 15:30, Published by Jacqueline, Categories: Health+Wellness
---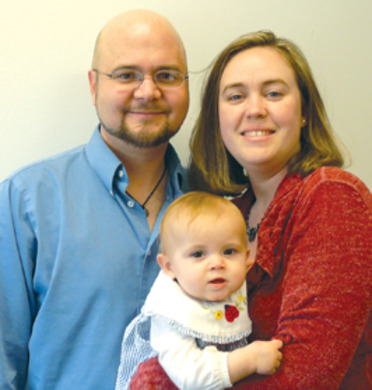 ---
---
—HOLISTIC THERAPIES LLC—
Owners Jeff & Shawna Kiker with daughter Lillie
by Louise M. Mitchell
Holistic Therapies LLC in Bergen Park is the Naturopathic Health Center of Jeff and Shawna Kiker, NDs. Whether you are interested in improving your overall physical well-being or working with a specific condition, the approach of a naturopathic doctor is the holistic evaluation of causes and effects on the body and working to neutralize the causes of ill health.
"More than likely, by creating your custom health plan, the treatment will be multifaceted and preventative," Shawna explained, "there is often more than one way to improve your health, and the doctors and staff at HT can help you explore your options."
Naturopathy utilizes the healing power of nature, creating health and wellness from within. Treatments are integrated and collaborative with nutritionists, acupuncturists, hypnotherapists and medical doctors. HT's goal is to help people own their own health, explaining that "doctor" in Latin (docere) means doctor as teacher.
"Our vision is to help patients to grow strong bodies and achieve the balance of health necessary to meet today's lifestyles," Jeff said, "...and to age gracefully with the health and energy you deserve."
The Naturopathic Health Center provides custom diet and lifestyle therapies, nutrition and weight loss plans, functional medicine, wellness programs, preventive health evaluations, women's and men's health, homeopathy, physical medicine, massage, detoxification and body cleanse guidance.
One patient, Lauren, had experienced rapid heartbeats, blackouts and temporary blindness. A heart surgery and consultations with seven doctors were unsuccessful in fully remedying the symptoms. One day she felt faint while at HT. Jeff and Shawna immediately administered nutrients helpful to heart function. Her symptoms dissipated quickly, her energy returned and she was able to carry on a normal lifestyle that included working out and a full school/work schedule. Lauren, who takes fish oil and other doctor-line supplements from HT, will receive focused therapies as needed in the future. She described her heart nourishing treatment as "relief."
Celebrating its one-year anniversary, HT offers $55 massages during March. They always offer free 20-minute get-acquainted consultations for new patients. Look for them this April at the 9Health Fair at Evergreen Elk's Lodge.
Jeff and Shawna are graduates of the National College of Naturopathic Medicine in Portland, Ore. He has a background as a massage therapist and teaches at the Boulder College of Massage Therapy. Shawna is certified in obstetrics, IV therapy and chelation therapy.
The office is at 1301-C Bergen Parkway in Evergreen across from Natural Grocers. Call 303-679-3402 or visit www.holistictherapies.us.
---
---