Illuminate your life path through healing...
03/10/2012 10:49, Published by Jacqueline, Categories: Health+Wellness
---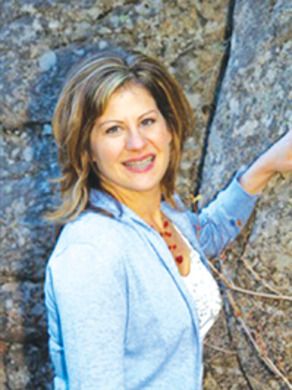 ---
---
—LIGHTWALKER WELLNESS LLC—
Elizabeth Walker
by Jacqueline B. Scott
You won't find an exotic menu of trendy body treatments at downtown Evergreen's LightWalker Wellness LLC. What you will encounter is owner Elizabeth Walker ready to start a routine of emotional strength training.
"I am buying tissue in bulk these days," said Elizabeth. "People are going through a lot of emotional and sometimes physical upheavals, but what they're experiencing after the crying spurts are those 'ah-ha' moments that are leading to a more fulfilling and abundant life."
This isn't therapy, nor is it a magic pill. "It just takes a commitment to heal and to be done with the limiting beliefs we hold about ourselves," she explained.
Elizabeth has been dedicated to her own personal growth path for nearly 30 years. She holds a bachelor of science degree in mass communications and was successful in the television industry for 17 years. In 2010, when her two children entered school, she turned her passionate journey of self-discovery into a business.
"Everything I recommend to clients is something I've tried and trusted myself."
Elizabeth is a Reiki master, a third-generation intuitive and business owner, a Reconnective Healing® practitioner, as well as creator of Awareness Academy™ and the Integrated Recalibration Technique™.
Whether in her office or over the phone, she uses a combination of "clothes-on" energy healing bodywork as well as intuitive counseling to get to the core of your issue. "When people come to see me, other traditional methods haven't been working. They feel lost, are seeking clarity or want to reduce their anxiety or depression. Some individuals just want a complementary therapy for their physical issue or intuitive insights into life's challenges or decisions," explained Elizabeth.
Besides private, 90-minute sessions for adults, LightWalker Wellness also offers appointments for children and teens. "As a sensitive child myself, I completely get these kids and I speak their language. As feelings are validated and the anxiety lessens, they're becoming more empowered and parents often report after a session, they're much more grounded at home and at school," she explained.
She works with kids and teens who have behavioral challenges, emotional issues or who just "seem off." In some cases, parents simply want clarity on their child's true spirit so they can understand them better. "It's pretty typical that after I work on a child or teen and the family sees the difference, Mom or Dad is coming in for a session for themselves to relieve stress or to work on their own issues," she said.
LightWalker Wellness, located above Go Paint!, holds self-esteem workshops, Reiki classes for kids and adults, and monthly calls for parents of sensitive children. Elizabeth can be reached at www.LightWalkerWellness.com or at 303-902-3669. She is happy to offer a 30-minute free consultation to see if her services will benefit you.
---
---
You might also like
Hey, guys! Get a 'head check' on 'Man Therapy' website
Man Therapy is a self-screening web tool using standardized questions to determine risk rates for depression, anger, anxiety and substance abuse. Men can get a tailored plan for how to improve their mental health in an anonymous and confidential way.
Ice Golf Jan 27 supports developmentally disabled adults
Lots of fun is the promise of this year's Ice Golf Tournament Sunday, Jan. 27, on Evergreen Lake. Grab your three favorite golf clubs, your three best buddies and present a foursome for the third annual Ice Golf Tournament to benefit local developmentally disabled residents.
---