Earth Day Fair turns 23 April 20th with weeklong events

03/29/2012 10:43, Published by Jacqueline, Categories: Health+Wellness
---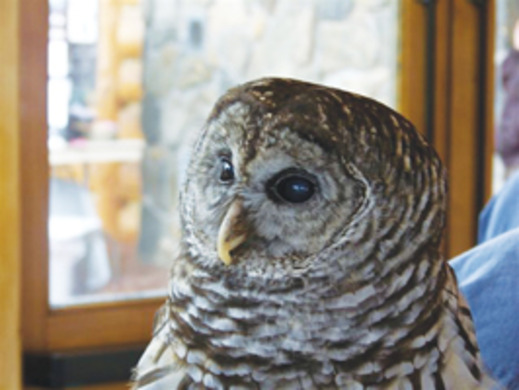 ---
---
See the ever popular owl at this year's Earth Day Fair April 21 from 10 am to 4 pm at Evergreen Lake.
by Christie Greene
I remember the first time I went to the Mountain Area Earth Day Fair at the Lake House as an exhibitor. I was amazed and delighted at the mass of humanity milling about and the general air of positive energy.
Eventually, I began co-chairing this small, grass roots effort with Betsy Kelson, another longtime member.
This is the fair's 23rd birthday and to celebrate this feat, we are adding a week-long celebration with events from Monday, April 16, to Friday, April 20, at the Bergen Fire House, unless noted otherwise. Doors opening at 6:30 pm with presentations at 7 pm.
There is no way I can really relate to you all of the details about Earth Week, so I encourage you to check out our website, www.evergreenaudubon.org, which has a link to the Mountain Area Earth Day Fair and Earth Week.
Highlights include:
• Evergreen Alliance for Sustainability will host a program about community gardens Monday, April 16, and Thursday, April 19.
• Evergreen 350.org will host A Double Feature Speaker Night featuring Time Magazine's Hero Of The Planet L. Hunter Lovins speaking on "The Way Out: Kickstarting Capitalism. Also speaking will be sustainability expert William S. Becker presenting "The Missing Ingredient in Making Every Day Earth Day."
The Earth Day Fair on Saturday, April 21, will run from 10 am to 4 pm at Evergreen Lake House. Contact Earth Day & Beyond at 720-219-7165.
---
---