Be part of rodeo history—be royalty

03/29/2012 10:02, Published by Jacqueline, Categories:
---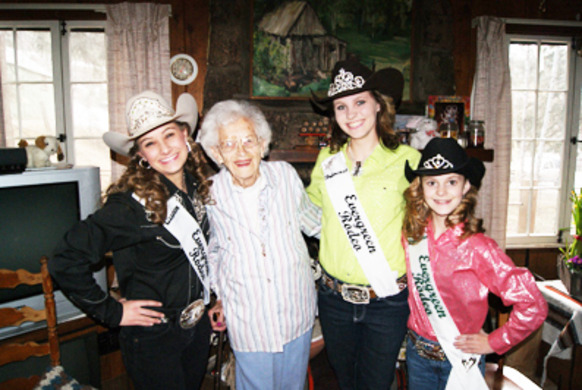 ---
---
by Margo Hamilton

The 2012 Royalty Court for the Evergreen Rodeo and Parade—Rachael Cravens (Queen), Madison Russell (Princess) and Rachel McKenna (Junior Princess)—sat transfixed before the original Sweetheart of the Evergreen Rodeo, Louise Hendryx, who shared memories of her 100 years of life, and most of that time was spent on the back of a horse.
"I had to give up riding horses when I turned 92," Evergreen's legendary l00-year-old beloved treasure revealed. Louise's parents, Joseph and Carrie Stransky, moved their family to Evergreen in 1935 and placed roots in what remains to be the family's relic ranch off Brook Forest Road. Raising cattle and horses became a passion and a lifestyle for Louise, who recalls the purchase of their family's first horses. "Dad found three horses for sale in Brighton. He paid $15 for all three, and my sister, brother and I rode the horses from Brighton to the Denver Stock Yards, where we spent the night, then proceeded to ride the horses home to our Evergreen ranch the next day. There was no choice...we didn't have a horse trailer."
Listening to Louise's stories about going to school in a horse drawn buggy, cleaning, feeding and caring for their beloved herd and spending hours both working and enjoying the company of their equine companions bonded the three young girls on a level that transcended the generations between the four horse lovers. The bond with the 2012 rodeo royalty tightened when Louise shared that her father, along with Joe Williford and others, founded the first Evergreen Rodeo.
Through the decades, the Evergreen Rodeo and Parade has become a huge event that attracts people far and wide over Father's Day weekend.
Devotion to this royalty program is carried on through Paula Bowers, Evergreen Rodeo Association Royalty Program coordinator.
Paula's daughter, Emily, became an Evergreen Rodeo Princess in 2008 and Queen in 2009.
"The Sweethearts of the Evergreen Rodeo—queen, princess and junior princess—truly are the ambassadors of the rodeo and parade," Paula said.
"Through the competition...the girls are judged on their speeches, poise and personality. Girls competing for the queen and princess titles also showcase their horsemanship skills; however, the junior princesses do not participate in the horsemanship competition. It is not a requirement to own a horse to become queen, princess or junior princess, however, those girls who win the titles must have access to horses throughout their reign as they participate in other Colorado rodeos and events."
Once crowned, the Royal Court has a one-year commitment to participate and represent the Evergreen Rodeo Association Royal Program and our mountain communities. They volunteer over 1,000 hours each year by participating in special events such as the National Western Stock Show and various community outreach and fund-raising opportunities throughout Colorado.
"During their reign, the girls gain leadership skills, they learn how to promote the western heritage, which is the foundation of the rodeo, and they develop and inspire a strong sense of community spirit," said Paula. And the queen wins a $500 academic scholarship.
Paula learned firsthand that rodeo regalia is expensive, and she has established the Queen's Closet to defray the costs for incoming royals, explaining,"Travel expenses, clothes, buckles, chaps, belts, sashes and jewelry cost a lot of money. We would be grateful for gas vouchers and western clothing and accessories that are literally fit for young women crowned."
"We promote the royalty program to girls who live in a radius of 30 miles from Evergreen, and any girls living in Jefferson County are qualified to compete for the crown. The program needs a computer, printer and office supplies, as well as donations to help fray the cost of the printing to promote the program.
Applications for the Royalty Program are through mid-April. Young ladies must be between the ages of 14 and 20. Junior Princesses must be 10 to 13 years old and their competition will take place at the Senior's Resource Center's Yellow House on June 1st at 1:30 pm. Contestants for Queen and Princess will compete during the pre-rodeo week in June and will be crowned during the rodeo performance on Father's Day. Competition events are open to the public.
For more information, call Paula Bowers at 303-265-1710 or visit the Evergreen Rodeo Association's web site at www.evergreenrodeo.com/royalty-program.php.
Mountain Connection donates $250 every month to the local nonprofit featured on this page through the
Mountain Connection Beneficiary Program. To date, Mountain Connection has donated over $93,750.
Evergreen resident Margo Hamilton is the volunteer beneficiary coordinator for the
Mountain Connection. She has extensive background working with nonprofits and writes
to help people better understand each other.
---
---