Art, art & more art
06/04/2012 09:49, Published by Jacqueline, Categories: Community
---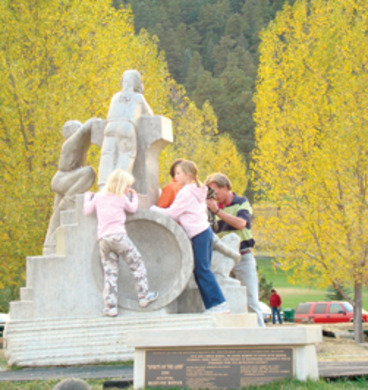 ---
---
"Spirits of the Land" by Madeline Weiner at Evergreen Lake House
by Jacqueline B. Scott, Mountain Connection owner/publisher

We live in a beautiful place. And it is accented by beautiful and sometimes fun or functional art.
Art for the Mountain Community places art in Evergreen (and beyond) every year, some of which become permanent members of our community.
The rotating art pieces change in June, so keep your eyes open for new creations in surprising places.
Meanwhile, the permanent art is like old and loved friends.
Kids climbing on the statue of kids at Evergreen Lakehouse is as much recreation as art. The life-sized stone children draw flesh-and-blood children to climb and play with them like a sticky table draws flies.
The kind-faced preacher enjoying a cup of coffee, or is it tea, out in front of Java Groove and Shadow Mountain Gallery, created by Susan Geissler, demands a smile in response to his radiant satisfaction in a simple morning, or is it evening, ritual of sipping something hot.
The relatively new round-about between Conifer and Evergreen begs to become home to a great piece of art. It calls out for art like sirens to lonely seamen.
May the vacant round-about's cry soon be answered with stunning art.
Bailey has been blessed by the opening of the River Canyon Gallery. This wonderful gallery showcases some of the finest art, photos and crafts in our mountain community. But there's more.
The art is creating community. The gallery fast became a meeting place, a gathering place, a community place. Ah, the power of art.
Just published by Mountain Connection is the new Corridor 285 Chambers Directory—a piece of art in its own right. The directory is in all the Corridor 285 Mountain Connections. If you want another or many, call 303-674-3701. Read about photographer Bobbyjo Birdsong and her cover photo on page 22.
Oh, and the directory/magazine also is online at http://digital.publicationprinters.com/publication?i=113106.
The June Mountain Connection is always about art, a worthy topic. Art is proof of civilization, a heart revealed, a flash of daring, an exposed nerve, a tender embrace. 
---
---
You might also like
Voting is open in the 2013 Mountain Connection BEST OF Contest. Voting this year will be through the Mountain Connection website and its business directory. If you want votes, set up a FREE business listing at www.mtnconnection.com. Then invite votes!
Ice Golf Jan 27 supports developmentally disabled adults
Lots of fun is the promise of this year's Ice Golf Tournament Sunday, Jan. 27, on Evergreen Lake. Grab your three favorite golf clubs, your three best buddies and present a foursome for the third annual Ice Golf Tournament to benefit local developmentally disabled residents.
It took a village–but I can see!
All I wanted was to see. My vision had gone from 20/80 to 20/300 in a matter of months. I stopped driving. I couldn't read the computer screen, (even with a super magnifying glass). Fortunately my co-workers were very patient and helpful. I was also able to get rides to and from work, and my "Seeing Eye Friends" were gracious enough to help me shop, help go through my mail and fill out doctor's forms.
---