Memorial run & events for suicide prevention

06/07/2012 11:33, Published by Jacqueline, Categories: Health+Wellness
---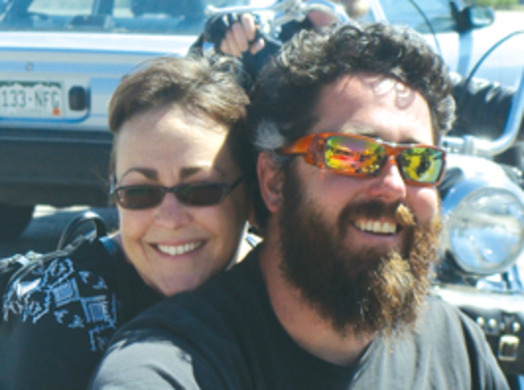 ---
---
Kimberly Karsell and her late husband, Tom
by Kimberly Karsell

Join Start Talking Network for food, fun, music and a great motorcycle ride to promote suicide prevention in the mountan communities Saturday, July 21st. Information at StartTalkingNetwork.com.
The Start Talking Network is a suicide prevention and information group of survivors, the Carson J. Spencer Foundation, numerous health care providers, supporters and volunteers in our community. Our goal is to connect people to a variety of resources…local health care, education opportunities, support groups and activities.
What we've been doing: Our website launched in June 2011. We have connected dozens of people in the community with information and needed resources, such as crisis care, general mental health care and support groups. We officially became a 501c3 last September and joined the Evergreen Chamber of Commerce. Community events and activities include the Boone Mountain Sports concert series, Warren Miller Film, Rodeo Parade, "Be" League Poker and our "Give for Life" FEST. Our educational efforts include hosting the nationally recognized "QPR" (Qualify, Persuade & Refer) awareness and suicide prevention training classes. We received a national grant to provide the same training online, free of charge; which will be available on our website soon. Our bookmark handouts provide warning signs, risk factors and contacts.
What we've learned: Did you know Colorado is ranked sixth in the nation for suicide deaths and has consistently been in the top 10 for decades? We, like most foothill communities, have many risk factors… economic distress, isolation and addiction challenges, all of which lead to depression. Most people do not know the risk factors or warning signs, how to discuss the topic with each other, how to refer someone who is struggling to available health care, or how to support someone throughout a crisis, treatment and recovery.
What are the facts? The most at risk: 75% of suicides are men of working age and elderly men. Between 2000 and 2009, there were 381 known child/teen deaths (ages 10-18) in Colorado. 
Fact: Suicide happens much more often than most people are aware. For every two homicides there are three suicides. In many areas, there are more deaths from suicide than there are to motor vehicle crashes. A tremendous amount of money is put toward road care, safe driver enforcement and vehicle safety, and yet very little is dedicated to suicide.
Fact: More Americans suffer from depression than coronary heart disease, cancer and AIDS combined. Two out of three people who suffer from depression will never get help. Depression is a leading cause of suicide.
Fact: A suicide happens about once every 16 minutes, and a suicide attempt occurs about once a minute. Between 12% and 20% of people have seriously considered suicide at some point in their lives.
Fact: There are almost always warning signs, but others are often unaware of their significance or do not know what to do. Most people who die by suicide have given some clue or warning. When suicidal threats are not taken seriously, the person may conclude that no one cares.
Fact: Most suicidal people are ambivalent, wavering until the very last moment between wanting to live and wanting to die. For example, people in a suicidal crisis frequently call for help immediately following a suicide attempt. The impulse to end it all, however overpowering, does not last forever. Suicide is preventable.
Fact: We have many challenges. The stigma surrounding words like mental health and suicide, access to qualified and/or affordable care and lack of education for the general public and health care professionals.
Join Us…
Like all charities, we need all the help we can get! Everyone can play a role in helping others and preventing suicide. Support us today by volunteering and donating. Invite us to conduct training in your workplace, faith group or other community groups.
Attend our free "QPR" (Qualify, Persuade & Refer) awareness and prevention training at the Church of the Transfiguration on Tuesday, June 26th. RSVP to Kimberly@StartTalkingNetwork.com .
Join Us at our third annual "Give for Life" FEST featured below.
Visit our website at StartTalkingNetwork.com for more information. 
Together we can save smiles. Help yourself or someone you know. Just START TALKING!!!
I lost my dear sweet husband, Tom, to suicide in January 2010. I am passionate about breaking the stigma barrier surrounding talking about mental health and suicide, while helping people connect to information, resources, support and health care.
Kimberly Karsell is co-founder and director of the Start Talking Network. 
---
---