Rembes: 'Ooohhh, those first kisses!'

07/27/2012 11:13, Published by Jacqueline, Categories:
---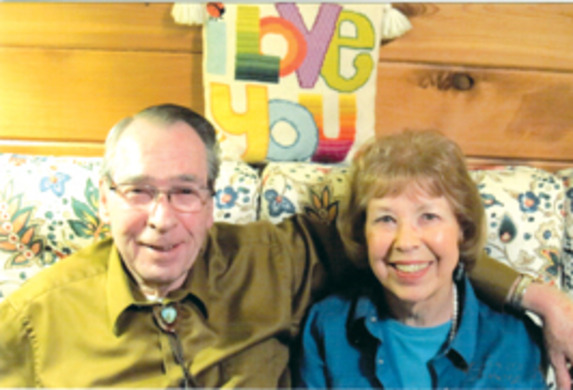 ---
---
The Rembes, in love since the first day Barbara met Boyd at a soda fountainby Margo Hamilton 
Wed 67 years and still acting as if they were courting one another in their eighth decade of life, Barbara and Boyd Rembe are proof there is bliss in marriage—and it can last a lifetime.
It was love at first sight when 17-year-old Barbara met 16-year-old Boyd, who worked behind the soda counter of the Candy Drum in Chicago, Ill.
Barbara recalled, "I had just graduated from high school in Wheaton, Ill., and moved to Chicago to live with my brother and his family for the summer. I went over to the soda counter and asked this cute guy for a drink."
That cute guy literally swept the 17-year-old off her feet, and Barbara confirmed, "It was absolutely love at first sight, and I was immediately head over heels in love." Boyd declared, "I had no idea Barbara was to be my wife, but the desire was immediate."
After a tentative chat between the two in what Barbara described as "a lovely talk in a sweet atmosphere," they had their first date a day later. It was a late night rendezvous. "I didn't get off work until 11 pm," Barbara said, "and we walked up Chicago's Broadway Avenue to have dinner, then we strolled along Lake Michigan, oblivious of the time. We settled on the steps of the high school and chatted the night away.
"My mother had impressed upon me to find an intelligent man, and I was so impressed with all that Boyd knew and, ooohhh, those first kisses were certainly thrilling."
The dawn of day snapped the two love birds back to realty, and although that first date predestined an everlasting relationship between the two, they had some explaining to do with Barbara's family. Boyd waited upon the stoop as Barbara climbed three flights of stairs with great apprehension, not prepared for what greeted her. " The entire family was waiting for me, worried to death that something terrible had happened to me, fearful I might have been murdered."
"The sentence for our misdemeanor was to go back outside, at 5 am, without having any sleep, and play tennis," laughed Barbara. The punishment proved providential as it was love all and a match set from that day forward.
Boyd's dad was a medical doctor, and he wanted to follow in his father's footsteps. He knew he could achieve his educational goal by obtaining a GI Bill through the military. The Coast Guard was part of the Navy during those World War II years, so Boyd's dad signed documents that provided parental permission for Boyd to enlist, which separated the young couple. "Each of us wrote every day," Barbara shared, and Boyd affirmed, "We wrote daily, even if we had nothing to say."
While Boyd was still in the Coast Guard, he asked Barbara to marry him.
Wanting to waste no time, Barbara prepared the detail of the wedding. But since the war didn't allow her to know the exact day she could wed, she purposely left the date off the engraved invitations. At the very last minute, she hand wrote the date June 7, 1945, 7 pm—exactly 7 months and 7 days after Boyd proposed.
The Rembes came to Colorado in 1953 to visit Barbara's brother in Kittredge. It was a lifestyle that immediately embraced Barbara and Boyd. Her brother knew of a new home being built, and that settled the deal. The Rembes moved into their Kittredge cottage and they have not budged from their beautiful home with breathtaking views in 59 years.
Wanting children, Barbara and Boyd had agreed to postpone starting their family for the first seven years of their marriage to pursue careers and security. Seven years came and went, and they had to wait seven more. Finally the child they long awaited for arrived. Beth Jallayn was to be the Rembes' only child.
Boyd became the vice president of re-insurance at National Farmers Union Insurance, and Barbara held several prominent administrative positions throughout her career, including working at Martin Marietta as the secretary to the head of the legal department. She is most remembered for teaching piano and harp to literally hundreds and entertaining thousands more. Still active as a performer, Barbara recalled asking Boyd to help her move her harp to a performance two months into their courtship. It was a role Boyd did not relish, lugging that harp from hither and yon for countless performances. "But I am a music leach," he explained.
Now in their 80s, this beautiful couple is known for their nattily attire, and their youthful appearance definitely shrouds their age.
Of love the Rembes said, "Just do it. Take the time to talk through your problems and communicate. And above all, always show forgiveness and be forgiving."
Boyd's parents divorced when he was young, and he shared, "I was in and out of orphanages for years and, by the time I was 14, I had attended 16 schools. I was always looking for a permanent relationship." Barbara added, "I think marriages can last if you marry the right person. Boyd is a sweet and loving husband, and I have always enjoyed making meals for him three times a day."
Margo Hamilton, the volunteer beneficiary coordinator for the Mountain Connection, loves to write to help people understand each other.

---
---