Motherhood: 'Little alien creatures?'

08/03/2012 17:12, Published by Jacqueline, Categories:
---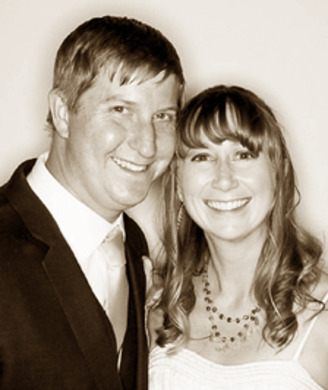 ---
---
Newlyweds Scot and Nell Contiby Nell Conti
A few weeks ago I was married to my longtime boyfriend, Scot. We had a beautiful, small wedding with close family and friends in Breckenridge over an unusually warm weekend in late June.
Predictably, Scot's traditional New England parents asked us when we were planning on "giving them grandchildren." As always I just smiled politely and avoided answering the question directly. My mom hinted in her usual indirect manner if we had "thought about kids."
Although Scot has always (but not seriously) thought that someday he might have children, it's a much more difficult question for me. Kids scare me. I'm serious. I'd be much more comfortable entertaining an audience from Pope Benedict XVI or the president or George Clooney than a 6-year-old.
I have clues as to where this stems from. I was a shy child and wasn't around young children often. I was the younger of two sisters so I had no little brothers or sisters to look after. When I babysat as a teenager I don't know how I got through the long evenings of macaroni and cheese, pajamas, and reading before bedtime, anxiously waiting for the parents to return and rescue me.
I am in awe of my women friends who have this natural inclination toward children. Miraculously, they seem to know exactly what to do when they see one. As I squirm and try to think of something to say to this alien creature, they swoop them up into their arms and make them giggle with their internally programmed baby language. It baffles me. And causes me to think there is something irretrievably missing from my being.
Friends and work acquaintances assure me that as soon as this heaven-sent bundle of joy is lying in your arms, an incredible product of your own creation, all of your "child trepidation" magically disappears. I'm not buying it. There are instances, such as in post-partum depression (PPD), where anxiety over having children persists after childbirth. Would my worries over being a good mother transfer to PPD? I can't imagine a more awful thing for a mother and child to go through. Based on identified risk factors for PPD I'm not highly likely to develop this type of depression, but it still worries me.
Children also demand a lot of attention. When they are born they see you as their sole comfort and their own personal milk machine. Women must turn over their bodies to this ever hungry little being who can't even say thank you (and probably never will) for your bodily sacrifices.
OK, so that's a big assumption (and a bit dramatic) coming from a non-mother, but you get my drift! On top of all of this we have no family in Colorado and only a handful of friends. We would certainly need to reach out to a local support network to aid in our transition to parenthood.
Jan. 15, 2009, was my final chemotherapy treatment for Hodgkin's Lymphoma. My oncologist assures me that there is no proof that a mother could pass this type of cancer on to her offspring. Per the American Red Cross I'm not allowed to give blood (Hodgkin's Disease, as well as leukemia and lymphoma, are blood cancers).
I'm not allowed to give blood, but it's OK to pass on these sour genes to my children?
When the doctor called with my diagnosis in September 2008 he said, "I have some good news and some bad news" (really, how cliché is that!). The bad news was I had cancer. The good news was that if you were going to have cancer this is the cancer you wanted! I still find that statement darkly hilarious. Despite the high success of treatments for Hodgkin's, it's not something anyone would want to experience. It would be an impossible situation for me to bear if one of my children developed the disease.
Despite all of this, in the past two years, for the first time ever in my life, I started to feel like I wanted a child. I'm in my early 30s and I can only attribute this drastic change of events to that good old "biological clock." I relish the idea of being pregnant, of having a little version of Scot and myself to take care of and to instill with our knowledge of the world. We both feel that Colorado would be an amazing place to raise a child. We fantasize about taking them skiing, hiking, camping and to baseball games.
In lieu of all my worries, both psychological and physical, is parenthood for us? I've realized that all of my rationalizations against motherhood come down to fear. And is fear something I want to let rule my life? Is it worth all the "what ifs" to have that pure love of a child and experience (as
I've often heard parents refer to it) one of the most incredible wonders of life? I still don't know, but I'm getting closer.
Nell Conti is a geographer, runner, skier, hiker, book lover and aspiring writer living in Conifer. Contact Nell at nellconti@hotmail.com.
---
---