Losing a house to a raging fire—definitely a transition!

09/03/2012 10:49, Published by Jacqueline, Categories:
---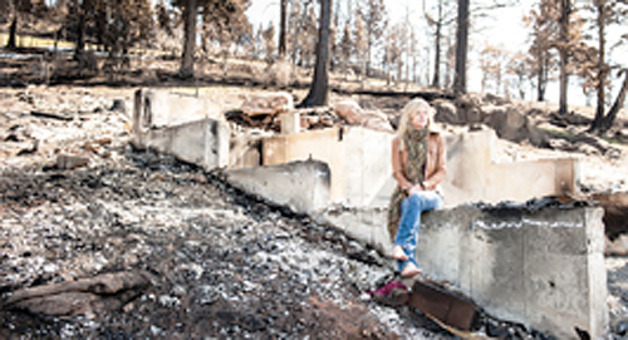 ---
---
by Kristen Moeller
"Who are YOU?" asked the Caterpillar.
This was not an encouraging opening for a conversation.
Alice replied, rather shyly, "I...I hardly know, sir, just at present—at least I know who I WAS when I got up this morning, but I think I must have been changed several times since then."
~Lewis Carroll "Alice in Wonderland"

Ah, transitions. Some are chosen, others seem forced upon us. All carry periods of adjustment and the necessity for patience as we make our way through unfamiliar patterns, places and spaces. Getting married is a transition, getting a new job is a transition, illness is a transition. Losing your house to a raging wildfire—definitely a transition. 
My life altered forever on March 26th when my home along with 20 others burned to the ground in the Lower North Fork Fire, which also tragically killed three of our neighbors. The early days are a blur. Disbelief masked some of the deep anguish that would bubble to the surface seemingly at whim. Now, the numbness has worn off and the pain is more raw. We know we are in the midst of a transformation, but we don't know how it will turn out. We don't know who we will become or what we will care about. Will we be wizened versions of ourselves or will we be scorched black like our trees and never shine as brightly?
I have had many transitions, many of which were positive, some of which were rocky. I have always (eventually) emerged stronger, more myself, less afraid. Looking back, I wouldn't trade any of them. My parents' divorce led to an ease of making new friends as we moved towns, then states. A breakup in high school led to college in Colorado and my almost three decade love affair with the Rocky Mountains. Getting sober at 23 led to finally knowing what I wanted to do with my life and a return to school to become a therapist. Losing a pregnancy led to finding our dream home perched on the side of a mountain.
At this point, I still don't know what this transition will bring. I see glimpses of the woman I have always wanted to be. She is bolder, funnier, wittier, deeper and more at ease with herself. In between those glimpses, I still resist this passage, wish it weren't so, and quite simply, want my home back.
Early on, we were cautioned to be patient with ourselves and the process because long after the smoke cleared, the ashes settled and the media moved on, we would still be dealing with the fallout. We were told not to rush to make any decisions, but we made some hasty ones anyway in our desire to create home. We bought a 1967 Airstream and tried living on the land until the now unabated scorching sun drove us back to living in friends basements. Four and a half months later, we still don't know where we will live.
Life no longer looks the same. It has similar elements, yet the foundation has changed. We drive past the turn to our road home on the way to where we are staying, and each time I long to make the turn and imagine for a moment that our home is still standing. Really, I don't miss much of my stuff. I had some beautiful things—treasures from years of collecting, original art, gifts from my long-deceased grandparents, scrapbooks from childhood, keepsakes and memories.
What I miss most is my house. Sometimes I think it still exists. Like a phantom limb, I am sure it is still there standing on its idyllic perch with its sweet profile staring into the vast expanse. It is simply tucked away somewhere like that lone sock that disappears. My brain desperately searches through folds of time and space, sorting memories. If I can just get back there, everything will be OK. I can have my sanctuary. I bargain with some unknown force, "Sure, I want my new lessons of transformation (which I have barely glimpsed) but can I still have my home? I will give up other things, I promise. I will give up stress, overwhelm, drivenness, the need to succeed, clothes—and even some shoes! I just want my home."
We are in the midst of the transformation. Who I was is burning up, more slowly than the wildfire that consumed my home, but burning still. Something new is emerging. I know I will adjust, just like I have before. I know gifts will come from this experience.
And, one day, we will settle. We will create home again—and the next time it will mean something new.
We are on our way—we just have a few hallways to pass through first.
Kristen Moeller is a writer, speaker and coach. She askes that you contact her by visiting www.walkingthroughfire.com.

---
---