There's a beautiful & economic countertop alternative

09/05/2012 11:29, Published by Jacqueline, Categories:
---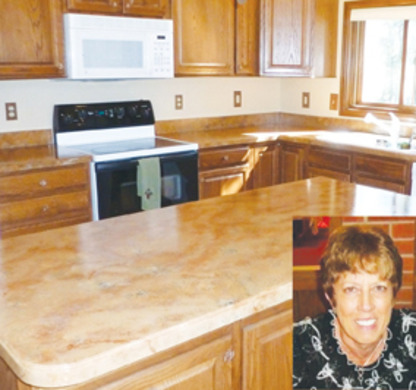 ---
---
—COUNTERTOP ALTERNATIVES—
Marcia Loomis, above, with her alternative countertops
by Louise M. Mitchell
Marcia Loomis, owner of Alternative Countertops by My Helping Hand and Evergreen resident, creates "one-of-a-kind, high quality countertop alternatives in a unique process that spares clients the expense of granite and stones to achieve the look they want for their homes." She said that countertops of Formica, wood, cultured marble or laminate can achieve the look of granite "without the price."
Used on ceramic tile, her technique creates a completely different look.
Her technical process starts with automotive grade primer. Over the primer is applied acrylic color and in some cases a metallic highlight—followed by a clear, hard topcoat for protection. A typical project may proceed over three to five days, including drying time.
A benefit to My Helping Hand clients is the lack of tear-out and construction in her process. Marcia tries to bring something very special to her clients by working with their personal desires for dramatic or personality looks.
At the Denver Home Show in May, she displayed square-foot Formica samples of finished designs, colors and flows of color that enthralled patrons visiting her exhibit.
Homeowners wanting to increase the value of their homes with an artistic finish as well as real estate agents staging homes for sale comprise her clientele.
Marcia works on countertops in bathrooms and home office reception and workspace areas, in addition to kitchens. They need to be surfaces not submerged in water, such as the inside of a sink or floor of a shower stall.
There is no charge for a consultation or estimate. She will bring samples of different "looks" with her to stimulate your ideas and create a design that is artistically inspired and executed, as well as functional.
of her completed work at several local homes are available for viewing.
My Helping Hand offers a 10% discount for realtor referrals and is offering the same 10% discount to homeowners that contract with her before the end of this year, possibly to spruce up their home for upcoming holiday gatherings.
Marcia moved to Colorado 32 years ago and lives in Evergreen. For 13 years, her business was Images Unlimited in the A-frame building on Bryant Drive in Evergreen where she sold office supplies and was one of the first women laser printer technician in the state.
If you are wondering about Marcia's special solution for your style and needs, call for an appointment at 303-898-3748.

---
---