Here's the difference between wood stoves...

09/08/2012 13:12, Published by Jacqueline, Categories:
---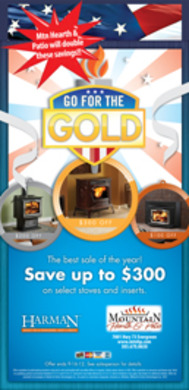 ---
---
by Jake T Johnson NFI/CSIA/FIRE

Our customers are continually surprised by the wide variety of choices available to them when they're looking for the new or replacement wood stove that best meets their needs.
Today's EPA-certified wood stoves vary greatly in size, shape, cost, style and in the material from which they are built. Most people aren't even sure where to start.
Fortunately, by paying attention to our customers' goals and how they live, we can find the solution that fits them the best. Some characteristics are the same for all modern wood stoves: they all have ceramic glass (for exceptional transfer of radiant energy) and they all have a secondary combustion system capable of 75% to 80% efficiency—more than double what previous generations of stoves could attain. If you burn any given volume of seasoned cordwood in a wood stove, the amount of heat produced will vary only in relation to how much air is provided.
While the amount of heat produced within the stove is the same, how the stove transfers that heat into your home is considerably different depending on what material it was constructed from. The three materials that woodstoves are built out of are steel, cast iron and soapstone.
Steel stoves, such as the Renviro Kodiak 1700, are made by welding steel panels together. They are usually black and can have legs or a pedestal. The body of steel stoves heats up fast and it transfers that heat into your home faster than any other material. Steel stoves are best suited to homeowners who want heat fast and are less concerned with overnight heating. The outside of a steel stove is the hottest of the three materials and works well with heat-circulating blowers.
Cast iron stoves, such as the Vermont Castings Encore, have been around longer than any other type of stove. Cast iron stoves are made by pouring molten metal into molds and then bolting the pieces together. They have graceful curves and are often painted with an enameled finish. Cast iron stoves heat up slower than steel stoves, but they hold onto the heat longer. They are an excellent choice for homeowners who want the stove to radiate heat longer than steel and for customers who want a top-loading unit.
Soapstone stoves, such as the Hearthstone Heritage, are built by joining thick sheets of soapstone to a metal frame. Soapstone is a very dense material, so it absorbs the heat much slower than steel or cast iron and then it holds onto the heat and radiates is into the room gently and gradually. Soapstone stoves have the longest "heat-life" of any stoves, they are effective heaters for hours after the fire has burned out. They are also remarkably attractive—combining the natural beauty of stone with elegantly designed frames.
For more information about your choices of wood stoves, drop by our showroom at 7001 Highway 73 in Marshdale or call us today at Mountain Hearth & Patio at 303-670-0658 or email sales@MtnHP.com. 
Big savings at Mountain Hearth and Patio! See ad below.
Semper Fi! 

---
---