Zuma's Rescue Ranch: Horses help hurting kids

10/04/2012 18:17, Published by Jacqueline, Categories: Health+Wellness
---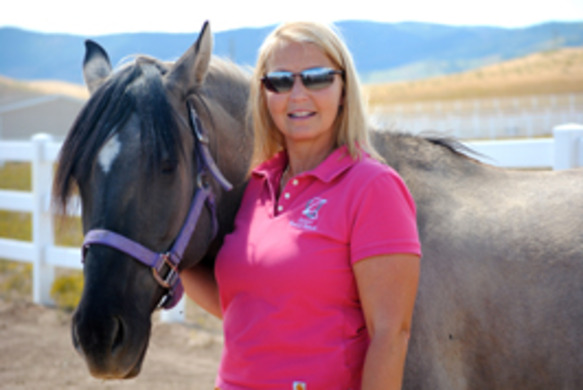 ---
---
Jodie Messenich with rescued BLM mustang Ellie (photo by Cherie Straub)
by Margo Hamilton
Zuma, a stunning Thoroughbred, entered the lives of Jodi and Paul Messenich, who were in the market for a horse for their daughter, Victoria.
The Messenichs had competed internationally with Grand Prix horses. But it was Zuma, a horse who was drugged to feign being sound in mind and body, a precarious purchase, that literally changed the course of not only their lives, but those of at-need horses and at-risk children.
"Zuma, appeared to be a quiet and well-trained mare, but once home, we realized she was far from a well-trained horse," Jodi said. "We briefly considered re-homing her, but we knew Zuma might fall prey to the wrong people as we have seen happen to other horses. I looked into Zuma's eyes and she seemed to be pleading, 'Don't give up on me—persevere.'"
Raised in a secure and loving home, Jodi knew she was blessed as many of her relatives had suffered a different life experience through addiction, incest and abuse. "I became a foster parent when I turned 21 as I know the plight of kids who need love and encouragement to overcome heartache."
The Messenichs' love of horses and children became united and they forged a mission when, in 2004, a friend begged Jodi to rescue seven horses a kill-buyer was taking to slaughter. "The day the horse trailers arrived, seven near-death horses exited the trailers with crooked legs, open wounds and starved. I turned to the Internet and learned about kill pens and how thousands of wild horses, as well as unwanted horses, are slaughtered." 
Zuma died in 2004, but her message to "persevere" prevailed in the hearts and minds of Paul and Jodi, and their life's focus drastically changed.
The equine property and comfortable lifestyle of Paul and Jodi altered when Paul lost his job in 2006, so they created a nonprofit appropriately entitled Zuma's Rescue Ranch. Collaborating with Phillip Tedeschi from University of Denver, Zuma's Experiential Learning Programs today serves as an advocate and mentor for children and horses. More then 50 kids come weekly to Zuma's, including foster kids, kids ADD/ADHD, dyslexia, mood and behavior challenges. By combining horses and kids whose lives and hearts are wounded, the horses provide alternative learning opportunities for children, teaching them  trust and love.
Due to severe drought this year, hay prices are at an all time high (increased by 75%). Zuma is now strapped with excessive expenses—but still they persevere. You can help by participating in some amazing events. Rock the Ranch is Oct. 13 from 5:30-9 pm and features a Side of the Road Band  during dinner and campfire dessert complete with gourmet SMORES.
Zuma's Pantry serves and sells fresh produce grown in Zuma's Rebecca's Therapy Garden.
There will be equine demonstrations featuring Zuma's Rescue herd and children. Oct. 27 Zuma's Haunted House, Haunted Hay Ride and fun fall activities happening, and on Dec. 15 you can enjoy High Tea with hayrides and photo opportunities at Zuma's.
Your support can also help Zuma transition their hay barn into a nonprofit equine hospital. Or help fund an endowment to ensure Zuma Rescue Ranch will continue.
Call Zuma at 303-346-7492, email info@zumarescueranch.com or visit  www.zumarescueranch.com.
---
---
zuma resue ranch horse therapy for kids jodi messenich
---