Daily dovotions birth dedicated team of helpers

12/03/2012 12:38, Published by Jacqueline, Categories:
---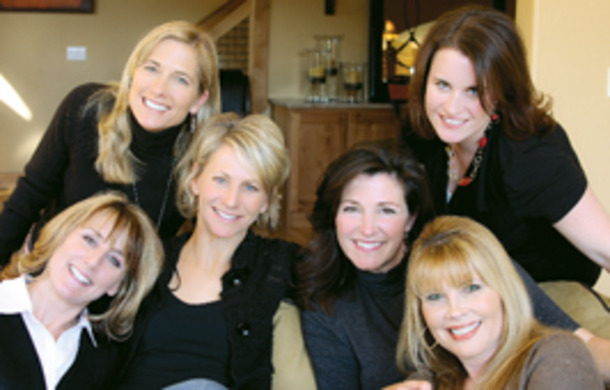 ---
---
Seeds of Hope members, top row, Michelle Spadafora and Amy Van Horn; middle row, Christa Babb and Carole Urbas; bottom row, Paula Dong and Tyra Kilcullen
—Seeds of Hope—
by Margo Hamilton
Six like-minded friends with great faith and hearts established Seeds of Hope, a local nonprofit that assists the missions of local nonprofits, as well as individuals in need.
During a daily devotional in 2008, Michelle Spadafora was contemplating "How can I be used." She said the answer was immediate: "So you want to change the world? What are you waiting for?"
"When we got together to form Seeds of Hope, we realized our job was to connect those who were willing to serve with those in need," Michelle said.
Fiscal downfalls, families torn apart by divorce or death, people fighting illnesses and teens seeking self-worth through rehabilitation have been touched by Seeds of Hope's service.
"We have to help each other during these tough times," said volunteer Paula Dong. "We've helped community nonprofits by assisting them when they have fund raisers, and we raised money to help a family buy a companion dog for their child. We love to get together and cook for people who might need one meal or several meals. We assist annually with a program that buys backpacks and school supplies for community kids whose families couldn't afford them, and I could not believe how many backpacks were donated. When there is a need, we are eager to respond."
Tyra Kilcullen has faced tough times, and being able to now volunteer to help others is a vital part of her life.  She shared, "From my own journey of hardships and challenges, I know the importance service played in my own growth. It was a place of pure humility when the community and family came together to help me. Those who are in need don't need to give us all the details about their situations. We help and do not judge those who need our help. You can tell us a friend needs three meals, and we will provide. When my son was in seventh grade one of his friends committed suicide. We provided meals for the family and help put together a memorial celebration. Illnesses and tragedies have no regard to finance. We all need comfort and knowledge that someone out there cares. We want to show God's love by providing a meal or assistance."
There's often a misperception about mountain living, and although it appears many are affluent within our community, Christa Babb declared, "There are many people struggling financially, as well as those burdened with physical or emotional challenges. Our volunteers are passionate to serve the needs within our community, and we welcome you to volunteer. We would love for people to join us who are willing to head up or take the lead on different volunteer opportunities."
Seeds of Hope created Easter baskets for at-risk teens living in a rehab situation, and their notes of gratitude reveal that a gift of hope can override a hurting heart. "Your Easter basket made me feel like someone cared for me." "My family told me I was trash, but you showed me someone cared and I am not waste." Those are two of the sentiments teens shared.
Help Seeds of Hope help others. Volunteers are needed in many capacities, including those with technical, legal and business skills. Now is the time to share a year-end tax deductible financial contribution to ensure food and supplies are obtainable when needed.
As Aesop proclaimed, "No act of kindness, no matter how sma
Mountain Connection donates $250 every month to a local nonprofit featured on this page through the Mountain Connection Beneficiary Program. To date, Mountain Connection has donated more than $95,750.
Evergreen resident Margo Hamilton is the volunteer beneficiary coordinator for the Mountain Connection. She has extensive background working with nonprofits and writes to help people better understand each other.ll, is ever wasted." For more information go to http://www.seedsofhope.us/.
---
---
Margo Hamilton seeds of hope mountain connection beneficiary program
---