Kathy steps down from Mountain Peace Shelter

02/28/2013 16:40, Published by Jacqueline, Categories: Health+Wellness
---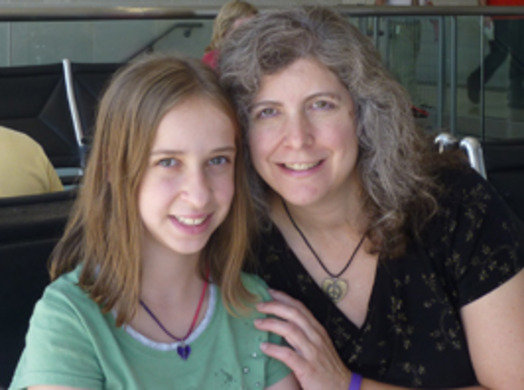 Izabella and Kathy Mastroianni "My lovely daughter...I did, literally, give my first born to the shelter (or at least loaned her out). She helped with child care, playing with the pets, organizing grants, public speaking, picking up donations, cooking for Taste of Italy, and so much more. I could not have done it without her love and support"
---
---
by Kathy Mastroianni, chief executive mommy
As I have stepped down as chief executive officer of PeaceWorks Inc./Mountain Peace Shelter and am taking on the title of "chief executive mommy," I can say without a doubt, it has been an honor to be of service to our mountain neighbors through some of the toughest times in their lives as they moved through crisis to peace. 
What a great time to take a walk down memory lane. Get some cocoa and cookies and let's go!
I had worked at Mountain Resource Center for six years (from 1994-2000) and then took some time off to stay home with my beautiful daughter, Izabella.
After a couple of years, I missed working with the community. Out loud I said, "I want my own advocacy agency!" I must have been heard, because shortly thereafter I was told that Sally Swancara, the director of Park County Crisis Center for 16 years, was moving to a lower altitude for health reasons. 
I didn't think I could be "director" of the crisis 
center. But my friends said, "Of course you can!" 
I submitted my resume. My friends at Park County Victim Services, Mary Pat Bowen and Karen Quiring, promised me they would help me out and make it work (which they did!). I was offered the position and accepted it (ignorance is bliss!). I have said since that time, "Friends shouldn't let friends be directors of rural shelters."
Sally stayed on to help "orient" me for two weeks. Sally confided she learned one of the shelter residents was selling drugs and asked if I would like to go along to "bust" this person. I said, "Uh, no. Why don't you take care of this one." It never did hit the paper, but it was a nerve-racking start to what proved to be an exciting job for 10 years. Never dull! 
On my first day, the table with the fax machine broke. The computer had over 400 viruses. There was a note in one of the grant folders with 16 bullet points that needed to be addressed or this major grant would be gone. I received a phone call from Victims Assistance Law Enforcement—VALE, that paid for half of my salary, saying that they were not approving their grant. I remember frantically saying, "But I just started! You haven't given me a chance! What am I supposed to do?" They said they would give me a chance to rewrite the grant. 
VALE also required that the Crisis Center have a financial audit. I remember sitting on the floor of the office, frantically digging through the file cabinet to find elusive checks. I found most of the checks and presented the information to the "auditor." I had a deadline to get this information to the funder. I waited a few days and asked how it was going. They said, "Fine." I called in a couple more days, it was still not done. I started stopping by in person. Finally, I said, "I need this now!!" And I sat at the office while the report was being finished. When they handed it to me, it said, "Financial Review" NOT "Financial Audit!" I just melted. Oh, no! What would happen now? It turned out it was fine for that year!
Crisis Center "Administratively Dissolved"
One day one of our board members checked the Colorado Secretary of State's website and the Crisis Center's periodic reports. It turned out the organization was "Administratively Dissolved" about six years ago. What?! When the Crisis Center was first incorporated, the registered agent was the district attorney for Park County, so everything was mailed to his post office box. In a year or two, he resigned. No one ever changed the P.O. box and no one noticed that a report needed to be filled out. If caught within five years, it would have been OK. We found it in year six, meaning that we had to completely reincorporate (which is why my name is on the forms as incorporating the organization). So, in a way, I did help to "found" it through it's rebirth!
My new accountant, Cyndi (a friend from MRC days) asked me one day, "Where is your 990 forms?" I replied, "What is a 990 form?" Bummer. It is a tax form that a nonprofit organization must fill if its gross income is over $25,000/year. In the early days, the annual income was nowhere near $25,000. When I was there, it was up to $68,000/year. Yikes! A major concern was that when we did legally file a 990 form it would trigger the IRS and result in fines and penalties. Sure enough, we received a serious letter from the IRS fining the organization something like $25,000 per year for not filing the form, which would have closed the shelter for good. Luckily, the district attorney served on the board and wrote a wonderful explanation to the IRS stating that, in the past, the organization was run by a very kind social worker who helped families, but was not a business woman. But that now we have a new team promising it would never happen again. The IRS waved the fees. Phew! 
I learned early that in order to survive on this job, the main thing to do was to network and get a strong support crew. Barbara Jerome Behl joined the board and quickly rose in "power" to be president for five productive years. I learned quickly that having a real estate agent on your board is a good thing! 
We developed a Building Committee and started working on finding our next Bailey Shelter. We also decided to close the Fairplay shelter in order to focus and strengthen Bailey (I affectionately called "the mother ship"). 
I quickly discovered how important pets are to families. 
The thought of leaving a domestic violent situation without their furry family members can be, literally, unthinkable. I remember one hotline call before the official "SafePets" program was started. A woman called, saying that after beating her up, her husband had left, but she was afraid he would come back. She had barricaded herself into her home by pushing a dresser against the front door and had a baseball bat ready. I suggested, "Wouldn't you feel safer if you came to the shelter?" She replied, "I would, but I cannot leave my two dogs, my cat and my bunny." 
So the shelter started having foster homes for pets and, when we were planning the new shelter, we made sure there was a place for pets. Thanks to the Peace Jammers and the Conifer Rotary, there is a nice "Cat Cabin" and beautiful large heated dog runs for pets at the shelter. A couple of amazing volunteers offered a safe place for large animals (horses, cows, goats, pigs, etc).
One of my favorite examples of our mountain community is the Sheltering Hope Capital Campaign to raise $340,000 to purchase the new shelter. When we did not have two nickels to rub together toward the purchase, the Bailey Mountain Lions and Lionesses showed up delivering $300. We went to talk to the Park County Board of County Commissioners. Nervously, we asked for $20,000 toward the purchase of this important county resource. After the commissioners conferred, they came back and offered $30,000. We said, "Yes!" With this ammunition in hand, we completed a $100,000 grant application to the Colorado Division of Housing, Community Development Block Grant (not a grant for the meek!) We were invited to present to the State of Colorado Housing Board. Nervously, I handed out my packets and told the housing board how supportive our community was. When they reconvened, they decided to follow the lead of Park County—they approved the $100,000 with another $50,000 challenge grant! So, if we raised the additional $50,000, we would have a total of $200,000 towards our $340,000 purchase price! 
It was time to shout from the rooftops: 
"Help save our shelter!" 
And the community responded! I received call after call of community groups stepping up to help out (I did tell you how much I love our mountain community!). In all, there were 42 fund-raisers raising the $50,000 to get the matching funds. Fund-raisers included a church doing a "lemon seed count" (counting the lemon seeds while making lemonade and donating $1 per seed—over $700. A church youth group held a car wash, and the water had to be trucked in. I especially remember Cub Scout Troop 285 doing a penny drive called "Pennies for Peace." They even had a float in the Conifer Christmas parade. These ambitious kids raised $907! Wow! The final fund-raiser to finish off the challenge grant was when the Park County Sheriff's Office Deputies waited tables at El Rio in Bailey. With the Victim Advocates as a support crew and Sheriff Fred Wegener as the host (no one trusted him carrying trays of food), the event was a true success. As Sheriff Fred was seating two ladies, one shouted, "Ooooh, frisk me, Fred!" Another memorable quote was when someone wondered out loud why no one was complaining about how long it was taking to get the food served. The reply was, "Who is going to complain when all the waiters are carrying guns." 
Enough money to purchase a new shelter!
By April of 2005, we had raised enough money to purchase the new shelter with a small owner carry. It was time to start renovations. Our task: To turn a two bedroom, one bath home into a four bedroom, three bath home with a staff office, new furnace, new plumbing, new flooring throughout, and more! Thanks to an amazing interior designer and board member, Sue Barkley, "Adopt a Room" was structured. The new furnace and plumbing proved to be one of the biggest challenges as we went through about four companies until Mike's Mechanical finally gave us a significant discount. I do remember a -30 degree F wind chill day when, with only a space heater, the guys were working hard to get heat installed. Burrrr!!! In the end, about 90% of all the renovations were donated by our community. Rock on!!!
I do have what I call "interesting angels." Here, again, I sat in what was left of the old shelter needing to get rid of stuff. Someone suggested calling a hauling company called Sandford and Sons. These burly looking guys come in and asked me what needed to go. When I told them about the toxic items, they said, "Throw them in!" So, thanks to these angels, I was able to finish emptying the shelter, closing one door in the history and opening a new one.
We had one room completed and ready to go, but building materials were littered through the house. The old shelter was closed and the new one not officially opened yet. 
My cell phone rang with a crisis call. This woman was frantic and said if she did not leave her home immediately that her husband would kill her and her 12-year-old son. Oh, and she had two female mother cats with about 10 kittens. Could they come to the shelter? 
 I quickly evaluated the situation and asked her, "Would you mind our dust and construction materials?" She was good with that! I planned on meeting her in 30 minutes at a local gas station to lead her to the new shelter. Ready or not, Mountain Peace Shelter was open for business! 
The room she was moving into was a lovely room adopted by American Craftsmen Log Homes, Bud and Claire Moore. A full sized bed and wooden bunk beds were waiting for our first guests. As I worked to check in "Mary" and her son, "Zach," I was getting yet a second crisis call on my cell phone. A single woman, "Sarah," who had two large dogs was being harassed and evicted and needed to get out.
Volunteers showed up the next morning. Within a few hours, Sarah came with her dogs to the shelter.  
Tragic Note about Sally Swancara
Sally Swancara, the founder and director of Park County Crisis Center Inc., was violently murdered Feb. 10th, reportedly by her 24-year-old son. She was a huge advocate for victims of crime and had helped countless of our mountain neighbors. I have enormous respect for her serving those in need. Prayers and peace to her family during this tragic time. And may this horrendous situation strengthen our resolve to end violence and create peace in all areas of our lives. Bless you, Sally, on your next journey
---
---
Bailey Colorado Mountain Peace Shelter Conifer Rotary Kathy Mastroianni izabella mastroianni sally swancara park county crisis center bud and claire moore mary pat bowen karen quiring barbara jerome behl safepets mikes mechanical
---