Husband-wife chiropractic doctors heal from inside out

03/04/2013 12:16, Published by Jacqueline, Categories: Health+Wellness
---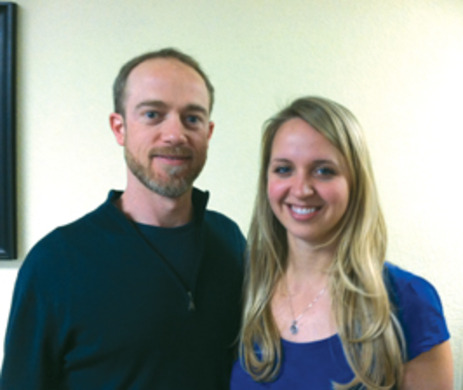 ---
---
 by Bethany Desch
Tim and Lindsay Wilson of Crossroads Chiropractic & Acupuncture are walking testimonials to the effective power of alternative methods of healing. Both are doctors of chiropractic who believe in a holistic approach to improved health, including chiropractic, acupuncture (by needle or laser), nutritional counseling, massage therapy and an ongoing commitment to empowering and educating the community about health and wellness.
While Tim found relief through chiropractic adjustments and postural correction for chronic low back pain from a herniated disk, Lindsay found relief from a variety of inflammatory symptoms and pains related to gluten and food intolerances, discovering a whole new perspective on the correct diet for herself through comprehensive nutritional counseling.
"I thought I was simply gluten intolerant, but through the ALCAT Test, I discovered there are many traditionally nutritious foods that just didn't work for my body. I found relief from all sorts of intestinal problems, intermittent rashes and acne, and even emotional issues when I started eating according to the specific needs of my body," explained Lindsay.
"So many diseases come from diet," added Tim. "We provide patients with a health analysis based on blood and hair testing from the perspective of wellness, instead of sickness.  Our methods promote overall wellness and optimal health and function of every cell and organ. At Crossroads, our focus is the whole body as an integrated ecosystem; we aim to facilitate healing from the inside out. Our natural therapies improve communication between your cells and your brain, empowering your body to heal itself."
"We have seen so much improvement in people," shared Tim. "From a 93-year-old man with spinal stenosis to people with chronic inflammation from food intolerances, thyroid dysfunction, sleep issues, depression, even chronic sinusitis.
Your body already has the capacity to heal; we are just trying to remove the blockages and prevent stagnation so that you are as healthy as you can be."
After only a few months in Colorado, with their hearts set on the mountains, Tim and Lindsay were given the opportunity to take over a chiropractic practice in northern Evergreen. That opportunity has bloomed into a brand new space, allowing Crossroads to offer many modes of healing including lectures, classes, nutritional counseling, massage, yoga, acupuncture, detox and chelation therapy, and chiropractic medicine.
Crossroads Chiropractic & Acupuncture is located in the adobe building on the frontage road off Highway 73 and Hilltop Drive, building 3072. It is open Monday through Saturday  offering flexible hours and extending a warm welcome to call with any questions. Call 303-674-9800 or visit www.ccaevergreen.com for services and appointments.
The team at Crossroads Chiropractic & Acupuncture is committed to an individualistic, self-empowering system of health care and natural health services.
---
---
Evergreen Colorado Yoga tim and lindsay wilson alcat test spinal stenosis food intolerance thyroid dysfunction sleep issues depression chronic sinusitis massage acupuncture detox chelation therapy chiropractic medicine crossroads chiropractic acupuncture
---