Conifer Awards: Jacqueline B. Scott, Mtn Books, Mtn Resource Center, House Call Hearing, Davis Linden

03/08/2013 10:44, Published by Jacqueline, Categories:
---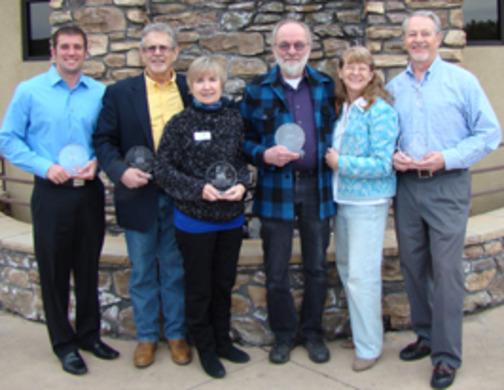 Davis Linden, Stan Foxx, Sharon Shrage, Jesse McKean, Jacqueline Scott and Pat Davis
---
---
Conifer Chamber presented its annual awards March 8th.
Winners are Jacqueline B. Scott, Mountain Books, Mountain Resource Center, House Call Hearing and Davis Linden of Edward Jones.
Jacqueline "Jacqué" Scott was awarded the the Norman F. Meyer Award for Outstanding Community Service." She is the owner of Mountain Connection newspaper, which has donated more than $96,500 back to community nonprofits.
Mountain Connection is a "positive news" publication mailed free to 20,000+ home and businesses from Conifer, Bailey and Pine to Evergreen, Genesee, Kittredge and Morrison. It will celebrate its 20th year of publishing in December. It also publishes the 285 Chambers Directory, Mountain Home and Garden Show official magazine, and a health & wellness directory.
Jacqueline's husband, Jesse McKean, won the Business of the Year Award. For 25 years, Jesse has owned and operated Mountain Book in Aspen Park Village Shopping Center in Confer. This year Jesse added a "Curios Room" full of "treasures" for homes and hearts. He also carries DVD and VHS movies, CDs, and books on tap and CDs. He constant companion is Sasha, the bookstore dog.
Pat Davis, owner of House Call Hearing, won the Home-Based Business of the Year honor. He offers hearing testing and hearing aids for people experiencing hearing problems. Often times he helps people for low or no cost.
Mountain Resource Center won the Non-Profit of the Year Award. Executive Director Sharon Shrage accepted the award. Mountain Resource Center helps people in need. Its "Neighbors Helping Neighbors" mission provides community based health and human services to people living in Conifer, Evergreen, Bailey and surrounding Colorado communities in order to foster more self-reliant and healthier lives.
Chamber Ambassador of the Year is Davis Linden of Edward Jones.
The awards were presented by outgoing Conifer Chamber Board President Stan Fox, at the chamber's monthly meeting at Brooks Place Tavern in Conifer Town Center. He was assisted by chamber Executive Director Dawn Smith. The incoming board president is Jennifer Eleniewski, owner of Creekside Insurance.
Contact the Conifer Area Chamber of Commerce at www.goconifer.com or call 303-838-5711.
---
---
Mountain Resource Center Mountain Connection Stan Foxx Mountain Books Dawn Smith Jesse McKean Jacqueline B Scott pat davis and house call hearing conifer area chamber of commerce annual awards brooks place tavern sharon shrage davis linden
---