Evergreen Chamber mission is to build community

05/31/2013 10:37, Published by Jacqueline, Categories:
---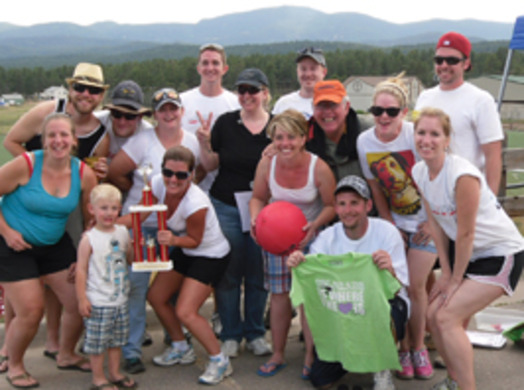 ---
---
by Margo Hamilton
In 1927, a group comparable to the Evergreen Chamber of Commerce published a tiny pamphlet welcoming Denver residents and Colorado tourists to visit this beautiful mountain town. Roads, parks, shops, recreation, restaurants and other trades tempted out-of-towners to discover the beauty and businesses that continue to make our community a flourishing and satisfying lifestyle today. From pioneers to entrepreneurs, the Evergreen community is cherished in the hearts of new and generational residents alike.
Lin Browning, current president and CEO of Evergreen Chamber of Commerce, proclaimed that the chamber continues to publicize the local businesses, building relationships that make living in Evergreen both extraordinary and distinctive. "The mission of the chamber is to build community, and we're doing that by serving our local business community and ensuring we provide a strong foundation for our members to grow their businesses, which will create a strong local economy.  
"However," she continued, "there is more to shopping locally to ensure Evergreen thrives. Many groups, including the arts and cultural alliance, parks and rec, civic groups, nonprofits and businesses have come together to create 'Our Evergreen.'  The mission of the group is to promote the importance to live locally. There are several theatrical groups, lots of shops, miles of trails and a variety of festivals, volunteer opportunities and events that sustain and maintain the pride and love we all have by living in Evergreen."
Ron Issacson, director for Our Evergreen, shared, "Our committee has touched on a simple truth that while many who live or work in Evergreen, there's a chance we have been lulled to sleep, forgotten or neglected to reach out to support all that nurtures Evergreen. Hence Our Evergreen provides a wake-up call to rekindle the spirit and support the efforts of those seeking to live their dream here.  
"We look to the community to put forth this question to their patrons, members, clients and customers: 'Why and what do you love about Evergreen?'" he said. "At every opportunity, at every function, event and encounter, we look to ask: 'Why and what do you love about Evergreen?' From the stories we hear and share with others, we hope for people to take note and increase support for those entities that contribute to this slice of heaven we call home. As director of Our Evergreen, I have made myself available to sound this wake-up call."
The chamber also sponsors the Evergreen Area Youth & Sports Expo and will host the Kickball Classic on June 22nd at Marshdale Fields from 9 am to 4 pm. The Expo is 10 am to 2 pm. Enjoy kickball, vendors and to learn about local services.
You can learn about social media through the monthly Chamber Workshop Series that meets the fourth Thursday of every month at the Evergreen Fire Rescue Training Room at 1802 Bergen Parkway. The workshop for June 27th is titled Content Will Make or Break You. July 25th is Twitter: Tricks to Tweeting. Aug. 27th is Online Advertising: Rising to the Top with Paid Ads. 
Evergreen Chamber leads groups are a good way to get involved with local business people. The Evergreen Chamber Ambassador Committee is the welcoming arm of the Chamber and welcomes volunteers.
Learn more at www.evergreenchamber.org or call 303-674-3412.
---
---
Evergreen Colorado evergreen area chamber of commerce lin browning kickball classic
---