Knew a duck named Henry

06/28/2013 13:10, Published by Jacqueline, Categories: Health+Wellness
---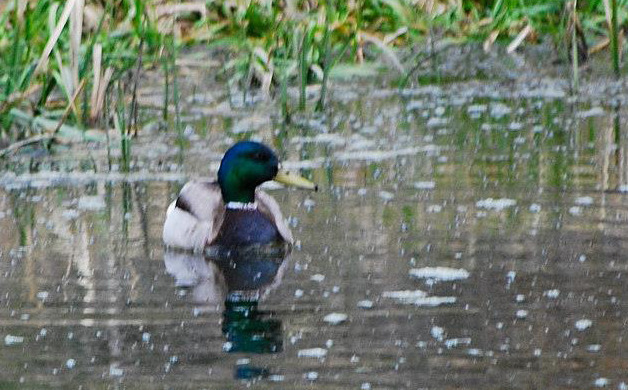 Henry the duck on Bea Everest's pond
---
---
by Bea Everest
We knew a duck named Henry. Henry was a mallard drake that chose to live with us for several years. He just never left with the rest of the ducks one winter.
I think that Henry lost his mate late in that first season and didn't know what else to do. 
He spent three winters with us; summers too. He swam in our small pond during the day and at night he waddled up to our chicken house and either my husband, our daughter  or I would let him in with the chickens. He would sleep in the chicken house and in the morning waddle back to the pond.
Every morning we would go into the chicken house and there would be hen, hen, hen, duck! roosting on the risers. 
Henry would have some grain and waddle back to the pond to spend the day swimming circles. Late in the fall that first year my husband installed an aerator in the pond so that it wouldn't freeze and Henry could continue his circular routine. I don't normally name wildlife, it diminishes them, and how do I know what their duck name is anyway? But Henry was named by our neighbor and we just let him be a Henry.
One snowy March we let the chickens out to walk around; they love to peck and scratch. The day was sunny, but cold with snow on the ground. Henry waddled to the pond through 10 inches of snow that didn't stop him.
Our neighbor knocked on the door and told me that two dogs had come through and killed several chickens and our two turkeys; there was blood on the snow everywhere and the dogs were still close by. I picked up the phone and called our county animal control officer to come and get the danged dogs away from my flock.
While I was on the phone, Henry walked through all of that snow to our back kitchen door—he was frantically pacing on his little orange legs and quacking up a storm. He had walked from the pond through snow drifts to tell me, "Come quick! There has been a massacre! You must do something!"
I said to Henry, "I know, I am on the phone to the police! It will be OK."
I walked outside and Henry looked right into my eyes. I picked up this small friend of mine and carried him to the pond. He was settled and very trusting. As I put him into the pond I told him, "Give us a few minutes, we will take care of things." 
We never spoke of it again.
Animal control came and got the thugs that had killed my chickens, a Husky and a black Lab. We cleaned up the snow and I worried that Henry would spend the night in the pond, furiously swimming. He would be cold all night. Not so. That evening just at dusk, Henry waddled up to the door of the chicken house and went in for the night. He never changed his routine.
A couple of springs later, Henry hooked up with a small brown duck hen we called Gracie. They raised a family of ducklings in our small pond, and that fall Henry flew south. Well, I suppose that is where they flew, he didn't say where he was going.
Just the other day, we saw a pair of ducks in our pond. I have no way of knowing for sure that it is Henry and Gracie, but I sure hope so.
We consider ourselves lucky to have the gift of wildlife in our Colorado mountain home. We appreciate the chance to get to know some of them.
Bea Everest is a local writer and entrepreneur. She can be found on facebook.
---
---
Bailey Colorado duck bea everest dog killing chickens
---