New 'village' of creative local artists

12/06/2013 14:24, Published by Jacqueline, Categories:
---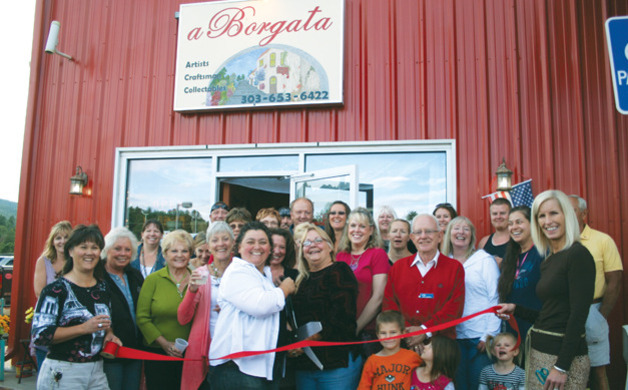 Owner Pennie Gaudi at her ribbon cutting with her sister Annette, center.
---
---
by Jo Ann M. Colton
Just about everyone is familiar with the proverb that touts it takes an entire "village" to raise a child. But Pennie Gaudi really took that adage to heart when she opened her Morrison business, a Borgata, in May 2013.

Born in California, the youngest of eight siblings once owned The Bargain Shack and a couple of buildings in Canton, Texas, that rented space out to other businesses. Wanting to live closer to an older sister and brother-in-law, she arrived in our area, via Phoenix, in January 2013 with a vision for her new business.

"I had an epiphany of sorts about bringing artists together and showcasing their creative talents under one roof without all the costly fees usually required at other places," explained Gaudi, who also has plenty of experience in corporate management working for Fortune 500 companies.

"Because 'a borgata' is an Italian term for "village" relating to areas around Palermo, I thought, why not create a local village—a family of artists?" she said.

Gaudi's business is not a consignment store. It rents out spaces (from $50-$200 per month based on size) and receives only a 10% monthly commission from each artist/vendor for items sold. The store opened with five participants and is currently up to 43 artists/craftsmen/antique vendors, with only about three more spaces available before filling to capacity.

The unique Italian-influenced marketplace features eclectic offerings of antiques, jewelry, paintings, primitive and Native American pieces, Gavin's Ray of Hope bottle lights, Life is Good products—and more.

Although Gaudi is the business's sole proprietor, her sister, Annette Williams, is her bookkeeper and major part of her support system. Williams and her husband operate Williams Custom Leather in the back portion of Gaudi's store creating custom leather work of all kinds (gun holsters, knife sheaths, vests, halter tops and beautiful leather roses). Pennie has an artistic side; but, her special talents include her love of talking to people and her ability to sell the work of other artists.

A Borgata is located at 9064 S. US Hwy 285, Morrison. Also check out a Borgata at Facebook/A.Borgata1. The store has been so well received that Pennie  anticipates not only moving to a larger space in Conifer in early 2014, but eventually opening multiple area locations.

She is now accepting vendor space reservations for her new location. Call 303-653-6422.

---
---
Conifer Colorado a borgata pennie gaudi artists village creative local artists unique italianinfluenced marketplace
---