The Inn is perfect for any special occasion or a night out at a landmark facility

01/07/2014 13:34, Published by Jacqueline, Categories:
---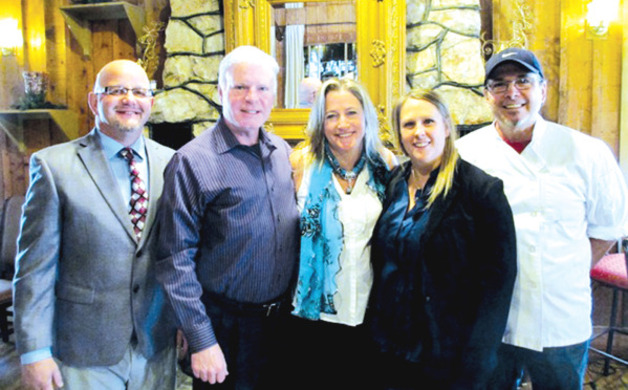 General Manager John Ruedy, owners Jon & Melissa Barton, event coordinator Michelle Hendryx and executive chef Larry Cotton
---
---
The Bartons and their four young children exchanged their lake-side lifestyle in Chicago for Colorado creek-side comforts in 2010, quickly establishing themselves as among the mountain community's supportive commercial citizens. 
As caretakers of one of Evergreen's most beloved landmarks, Jon and Melissa have employed a gift for entertaining and respect for the Brook Forest Inn's ancient and colorful past to create a perfect balance of historical authenticity, relaxed luxury and contemporary facility. Modern guests will find that stately treasure as enchanting for intimate dinners and get-away weekends as for afternoon club meetings and family reunions.

The Brook Forest Inn is perfect for celebrating those special occasions. Casual guests can tuck into a hot signature sandwich and a micro-brewed lager in its comfortable saloon, or enjoy a more graceful dining experience in the informally elegant main dining room. Either way, executive chef Larry Cotton's top-flight kitchen makes every visit an occasion to remember. 
With 16 freshly remodeled guest rooms and suites to choose from the evening doesn't have to end with dessert. The most special of occasions, however, require the most special kind of attention. "This is a perfect place for weddings," Jon said. "We can plan everything, prepare everything and present everything right here through our in-house event coordinator, Michelle." 
That is Michelle Hendryx, who can make family-friendly magic happen for as many as 200 wedding attendees and up to 44 overnight guests. Figure in the restful grass-carpeted lawn alongside sparkling Cub Creek, the Bartons' first-rate menu, audio-visual equipment and the inn's secluded, distraction-free setting, and "The Brook" is also a tempting option for training seminars and business retreats. "We have plenty of space to handle large groups, and an incredible team," Hendryx said. "We're completely unique in Evergreen."
The Bartons' lavish Mother's Day and Easter brunches rank high on local culinary calendars, and Valentine's Day is nowhere more romantic than beneath the inn's rose quartz parapets. General Manager John Ruedy is already drafting his game plan for Super Bowl XLVIII and warming up the Zydeco band that will make this year's Mardis Gras extra-special.
"We're committed to taking care of our guests better than anyone else," Ruedy said. "We exceed expectations of every level."
To plan your own special occasion at the Brook Forest Inn, call 303-679-1521, or visit www.thebrookforestinn.com.
---
---
brook forest inn jon barton mellssa barton michelle hendryx the brook
---