10% of EHS attends Teen Lunch Club

05/02/2014 16:27, Published by Jacqueline, Categories: Health+Wellness
---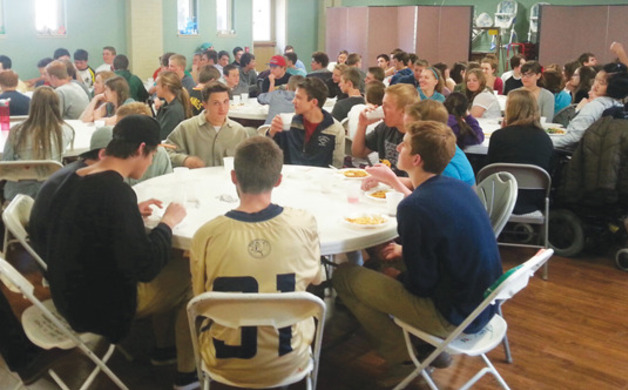 "Everyone seems to relate to everyone no matter our backgrounds or beliefs. It's a great environment for all teenagers," junior Ellie Williamson said.
---
---
Where do more than 90 teenagers congregate for 30 minutes, eat a home-cooked lunch for $2, and share positive messages, extend a smile and a hand to those with disabilities then beat it back to school? It happens in the basement of the Church of the Hills on Buffalo Park Road every Wednesday at 10:45 am.
Teen Lunch Club is a nonprofit that has reached thousands of teenagers within our mountain communities for three decades, and it's still going strong under the auspices of its founders, Ben and Judy McComb, and a litany of volunteers who have a heart and compassion for kids.
Before Boone Mountain Sports and Paragon Sports there was Sports Mine, which the McCombs owned and operated, and it was the site where the vision for Teen Lunch and Breakfast Clubs were fashioned in 1984. Word spread, kids came and growth abounded. At its zenith, there were 10 Lunch and Breakfast Clubs meeting throughout Colorado, and the Evergreen site remains the flagship. 
Ten percent of Evergreen High School students attend Lunch Club, and it is now the school's largest club off campus. Several faculty and volunteers board the two buses and one van that transport the students for the short trek to the still and silent basement that instantly transcends into a teen atmosphere with food, music, video, chatter and laughter.
Mountain Pathways provides a day program to those with developmental disabilities at Church of the Hills, and their participants are excited to see the students every Wednesday. Parents who once attended as teens now have their own kids attending, and siblings ensure that their younger brothers and sisters attend, as is the case of Hanna Perky, a junior at EHS.  "My brother brought me to lunch club my freshman year.  It's a fun place to come as there's no segregation. "
Luke Snuffin, now a senior, came with his older brother Zeke. "This is a great meeting place as you see kids from freshmen to seniors," Lucas said. He is one of two recipients of $1,000 college scholarships sponsored by Teen Lunch Club.
Ellie Williamson, a junior, started attending Lunch Club during her freshman year. "The environment is always welcoming, we get a great lunch for only $2, and it's student led.  Everyone seems to relate to everyone no matter our backgrounds or beliefs. It's a great environment for all teenagers." 
Kristina Halstead was the special speaker on April 9. Not only is she a 2012 graduate from EHS, she's a published author, skier and world traveler. Oh, yes, she was born nine weeks premature, weighing 3 pounds, 11 ounces, and has cerebral palsy and lumbarosis, plus vision and speech problems. She has lived her life in a wheelchair, but that has not confined her ability. She won the "Yes I Can" Award in 2012 from the Council for Exceptional Children for her involvement in school and community activities; and the Evergreen Chamber of Commerce Youth of the Year Award in 2011. 
You could hear a pin drop as she spoke about "being grateful for the life you've been dealt, no matter your hardship. Remember to find joy every day," she said. As the kids scrambled to get back on the buses, each one gave Kristina a fist-bump on the way out—uniting her with every student who appears to resonate with her message.
Join Teen Lunch Club as a volunteer, patron, donor or participant. You will see this world is in good hands with our youth.  Call Ben and Judy McComb at 303-674-7422.
---
---
Evergreen High School teen lunch club church of the hills mountain pathways kristina halstead council for exceptional children
---