Party!!! Thanks for helping feed hungry school kids!

07/29/2014 15:26, Published by Jacqueline, Categories: Health+Wellness
---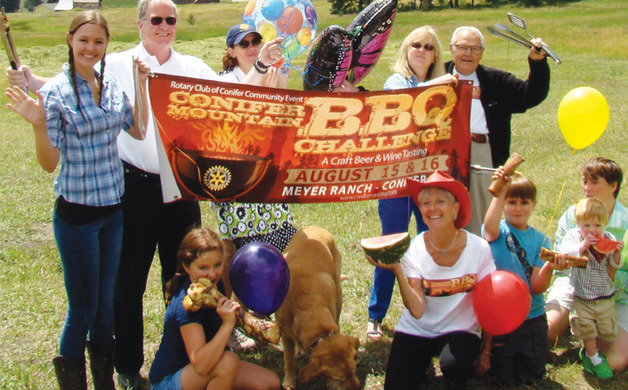 ---
---
by Suzanne Barkley
This feels pretty good. The school year's over. We've packed weekend food in backpacks for 120 kids every single week. Now we can relax a little, not worry about ordering food from the Food Bank of the Rockies and sorting it and delivering it to four schools or organizing all the Rotary and community volunteers that has been really time-consuming.
For 39 weeks we've been packing special backpacks set aside by schools for special kids, kids who don't have enough food on the weekends when they're not eating breakfast and lunch at school.
We felt so good about what we were doing...especially that first day that the adorable little fresh face appeared in the doorway and said, "Hey, you're the BackPack lady, right? Yea! Now could you make sure we get chocolate pudding every single week?" 
It made us so proud that the 285 BackPack Project has been able to continue and grow through its second year in the mountains. The Rotary Club of Conifer and the community volunteers should be really, really proud! 
Hearing from those teachers about how much of a difference it made on Monday mornings—kids able to focus and learn because they ate nutritious food on the weekends. That alone made it all worthwhile. Sometimes the good feeling comes from having a family return a backpack one week saying, "Thank you. We're so grateful. But we don't need this anymore. We're doing OK now, and this should go to someone else who really needs it."
But wait. Something doesn't feel right here. These same 120 kids we've been feeding every weekend during the school year are NOT getting food during the summer. Where are they eating? What are they eating? What's happening to them? 
Remember the statistics that compelled us to start this program? The fact that 1 out of 5 children in the U.S. is "nutritionally challenged"? But even bigger and more shocking than that is that 34% of the kids in just one of our mountain schools are on the free and reduced-fee lunch program, meaning that their families are living at or below poverty level.
Just as we were thinking about this tough realization, there was a call from one of the teachers running a summer program, saying that she needed Conifer Rotary's help. She explained that there were kids showing up for the whole day everyday without breakfast and often with just a snack bar to sustain them. These kiddos had no "fuel" to grow, to learn, to be active. They actually tried to distract other kids so they could "borrow" some chips or fruit or even half a sandwich. Often these children are either lethargic or just the opposite—causing trouble because they're just hungry!
"What a great loss to these struggling families because there are still hungry kids when the school year comes to an end," said this teacher. "Three months without the assistance provided at and through their school programs. Thanks to the 285 BackPack Program and the Rotary Club of Conifer we're able to help feed a few of these families during the summer, and give them that 'fuel'."
These are all OUR kids from OUR mountain communities, and we are so grateful to all of you who have helped so generously—for the individuals who volunteer every week, for the family at Elk Creek who anonymously adopted a family in need, for the Daisy Troop that donated Girl Scout cookies for each backpack, for the church members who send fresh produce every week, and another church that donated all of the proceeds from its annual Rummage Sale to the 285 BackPack Project!
Now it's our turn to celebrate you—the community! 
The Rotary Club of Conifer is throwing the biggest ever thank-you party—the Conifer Mountain BBQ Challenge and beer and wine tasting on Aug. 15 and 16 at the historic Meyer Ranch in Conifer. We want to thank you—our mountain community—for sharing the job of feeding our kids!
To thank you there is FREE parking (optional donations gladly accepted for our Veteran's programs), FREE admission (also optional donation of non-perishable food items for MRC's pantry) and FREE music all day both days!
Proceeds will provide a large portion of the food for the "nutritionally challenged" children in our mountain communities—YOUR children in YOUR communities.
The purchase of a $25 Tasting Bracelet will give you your own personal collector's Tasting Glass and the opportunity to taste dozens of Colorado craft beers. (See our website for the two-day tasting deal.) You'll be able to taste BBQ prepared by some of the Kansas City BBQ competitors and participate in the "Taster's Choice" Award. In addition there will be food available from some of our best local eateries.
We'll have cartons and bags of those amazing Palisades Peaches that you've purchased from Rotarians for many years. And while tasting your beers you'll enjoy a huge assortment of arts and crafts vendors all throughout the venue.
Please join us for the home town camaraderie and to support OUR kids in OUR mountain communities. Visit the website for times, craft beer sponsors, bands, event sponsors and the special two-day beer tasting offer. Visit www.conifermtn
bbq.com.  
Conifer Rotary invites everyone to the 2014 Conifer Mountain BBQ Challenge Aug. 14 & 15 at Meyer Ranch. 
Pictured above and on the cover of the August Mountain Connection are, left to right, Danielle Renaud, Conifer High School Interact; Jim Lynch; Diana Phelps, Rotarian; Nancy Lynch, Rotarian; and Mat Matson, event organizer. Kneeling, Gabrielle Fuentes, future Rotarian granddaughter of Suzanne; Gunnar Barkley; Suzanne Barkley, Rotarian; Spencer Fuentes, future Rotarian and grandson of Suzanne; Nancy and Charlie Carr, Suzanne's daughter-in-law and grandson. Photo by Jacqué Scott. 
---
---
Conifer Rotary Club Suzanne Barkley meyer ranch conifer mountain bbq challenge feeding hungry hool kids 285 backpack project
---