Local brings soccer to kids worldwide

07/29/2014 15:41, Published by Jacqueline, Categories: Health+Wellness, Today
---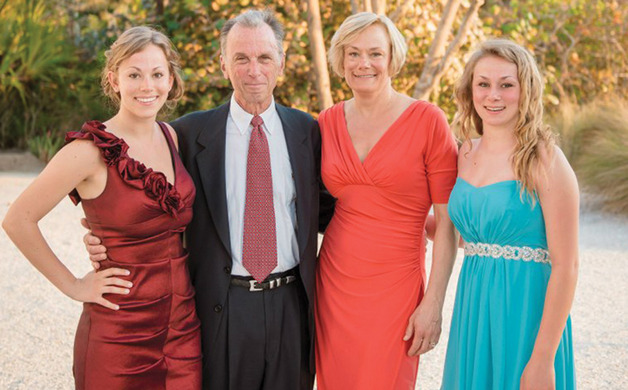 President/Founder Vincent Ventimiglia, above, with his family. Left is daughter Grace, to his right is his wife Patricia. To her right is daughter Jenny.
---
---
by Margo Hamilton
Evergreen resident Vince Ventimiglia has a passion for his family, international travel and soccer which he blended to create Soccer Dreams Without Borders.
"Soccer was my passion while growing up and remains so as I now coach the sport. Of course, my own kids cultivated an affinity toward the sport and have learned firsthand that it's international sport that brings people together no matter their race or nationality. 
"I love connecting kids with soccer. And when my son went on a stint with the Peace Corp, then relocated to Africa, I managed to ship soccer gear to him, which thrilled the kids. He started taking soccer gear to different villages in Africa and received the same reaction, so we decided to create a nonprofit that incorporated friends and family who loved to travel and loading them up with soccer gear. We've been told it's one of the best things that ever happened to the little villages throughout Kenya, Zambia and Cameroon. We've also managed to disperse soccer gear in Senegal, Uganda, Sudan, Mexico and Bolivia."
No doubt soccer is a popular sport internationally as well as throughout our mountain communities, and what soccer families have in common is using their garages as storage units filled with unused and outgrown soccer equipment. Vince connected with local mountain residents who had a combined interest in international travel and soccer to pack and deliver soccer gear on their travels, and he received an outpouring of overwhelming support, which escalated to the point that he decided to collect unused soccer accessories on a more organized basis.
This was the beginning of an organization called Soccer Dreams Without Borders. SDWB provides educational opportunities to impoverished children living on the street, orphaned, living with life-threatening diseases or have parents who are dying of HIV/AIDS. Their vision is to solicit and use soccer accessories as the entry point into the lives of African children, identify soccer players as mentors who collectively with the help of professionals will provide education concerning good health care and economic opportunities.
You might have been captivated by the 2010 World Cup that was played in South Africa on a beautifully manicured field surrounded by a new stadium; but what you didn't see or hear about were the 5 million people that tested HIV positive and the almost 28% of pregnant women in South Africa who tested HIV positive. 
Ever the visionary, Vince dreams of cultivating international unity through this popular sport. "I envision soccer teams through the U.S. adopting African teams as sister and brother clubs. There might be a gap in communication due to language barriers, but the rules and regulations for soccer are worldwide. It would be building a bridge to exchange passion for the sport and education about our different cultures and backgrounds." 
Vince walks his talk as he partners with Aurora Parks and Recreation, Aurora Community Center and several elementary schools to provide after-school programs and summer camps to kids. His local mission is much like SDWB as Vince and his volunteers teach kids the importance of education, communication, nutrition developed by good eating habits, companionship and a team spirit.
You can help SDWB in big and small ways. There are 10 boxes of soccer gear in Steamboat Springs waiting for someone to bring to Evergreen. Can you make that happen?  Are you traveling internationally and feel compelled to pack soccer gear to personally deliver to villages or small towns that will literally make you an instant hero? The most obvious question is do you have unused and outgrown soccer gear and equipment you can donate? And of course money is always needed. Call Vince at 303-670-2343 or visit the SDWB at www.soccerdreamswithoutborders.org for more information.
---
---
Evergreen Colorado soccer dreams without borders vince venti
---