Meet Evergreen's ELF!

07/31/2014 12:15, Published by Jacqueline, Categories: Today
---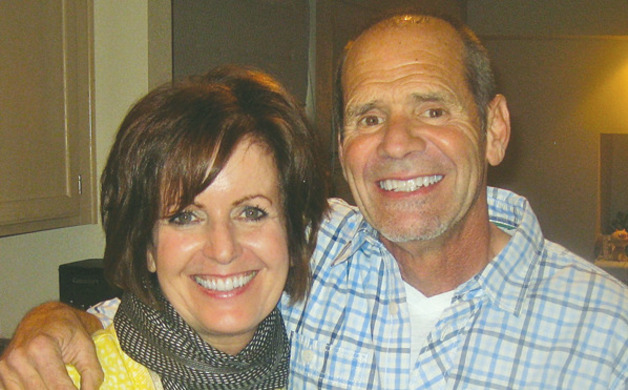 Gail Riley & her husband, Tom Statzell, of Highland Haven urge you to, "Look for the ELF and say Thanks!"
---
---
by Stephen Knapp
If you haven't met Evergreen's ELF, you soon will. 
He'll greet you at downtown businesses from Upper Bear to Meadow Drive, heralding good things. That singular sprite is designated spokes-pixie for the Evergreen Legacy Fund (ELF), which is, in turn, the remarkable community-based device by which the Greater Downtown Evergreen Economic District (Greater DEED) will soon achieve wondrous things for the town's historic heart.
"One of our primary missions is to take on the role of what an incorporated town government would do to make downtown Evergreen safer and more enjoyable," explained Greater DEED president Dean Dalvit. "We don't have anybody to build more parking, sidewalks and public bathrooms. We're trying to rectify that."
"When somebody says they 'should do something about that,' there is no 'they'," added Gail Riley, co-owner of Highland Haven and one of nine members of the Downtown Evergreen Business Association voted onto the Greater DEED board in 2010. "Greater DEED is going to do something about that."
Thanks to thousands of volunteer hours, mountains of in-kind expertise, and indispensable ELF funds, Greater DEED recently won the Great Outdoors Colorado (GOCO) grant that will soon unite two of the mountain area's best features. 
As partner in the project, the Evergreen Park and Recreation District will shortly oversee the construction of Greater DEED's elevated path uniting Historic Downtown Evergreen with Evergreen Lake Park. 
A second hard-won GOCO grant will soon be put to work fashioning a Downtown Evergreen Master Plan, a detailed blueprint including better signage, parking, sanitary facilities and, ultimately, a lush and lovely "Bear Creek Greenway and Trail" knitting the town together from the Hiwan Homestead Museum to Wilmot Elementary. Of course, all of those good things cost money.
And that's where the ELF comes in.
For the last two years, a group of downtown Evergreen merchants and the customers who patronize them have been contributing to ELF by way of a 1% surcharge on every polo, painting and pizza purchased.
"It's not a tax, it's a completely voluntary contribution," Dalvit said. "Merchants don't have to collect it if they don't want to, and customers don't have to pay it if they don't want to. But not many people are going to think twice about seven cents on their lunch bill."
Many littles make much, and although less than half of downtown businesses currently participate in the program, in a year and a half Greater DEED has nonetheless managed to tuck away a very encouraging $90,000 nest egg. Those ELF monies will provide the seeds Greater DEED needs to help the Heart of Evergreen flourish like never before. For that matter, Riley and her colleagues would be gratified to see the ELF work his benevolent magic from Marshdale to Bergen Park.
"We're totally inclusive," she says. "The more businesses that participate, the more we can do for Evergreen."
So look for the ELF. When you see him hanging out on a Main Street shop window, you know your purchase will be paying wonderful dividends down the road. And when you see his face on a public bathroom or kiosk or safe and enjoyable lake-access trail, you can thank yourself for helping to make a better Evergreen.
"Look for the ELF," smiled Riley, "and say, 'Thanks!'"
To learn more, visit www.downtown
evergreen.org.
Stephen Knapp is a freelance writer in Evergreen. Contact him at stavrosknapos@aol.com, KnappSnacks.com or 303-674-6285.
---
---
Evergreen Colorado Tom Statzell downtown Evergreen evergreen lake highland haven creekside inn evergreen park and recreation district evergreen elf gail riley greater downtown evergreen economic district elf funds greater deed
---