Helping women discover more money

09/02/2014 16:55, Published by Jacqueline, Categories: Health+Wellness, Today
---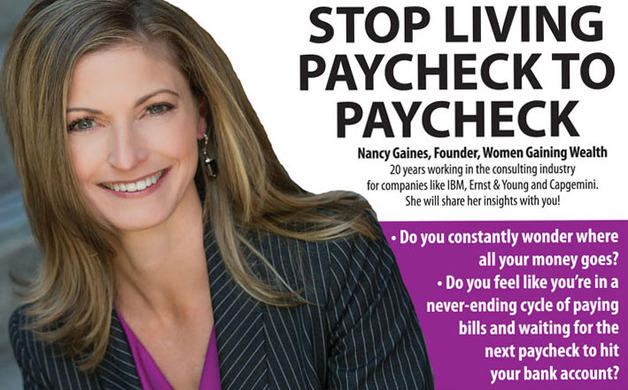 ---
---
by Sarah Aller

Wouldn't life be easier if you didn't have to worry about money? Nancy Gaines, owner of Women Gaining Wealth, LLC, (WGW) can help turn that dream into a reality.  
"After retiring from my job at age 48, I realized that I wanted to give back to others in some way,"  Nancy said. "I started Women Gaining Wealth to help teach other women how to be successful with their money."
Founded earlier this year, WGW teaches women the importance of good money management skills so that they can improve their financial knowledge and confidence, and ultimately achieve financial freedom.
"We help women from all financial backgrounds become smart, savvy and successful with their money, whether it's correcting bad money habits, saving for retirement, stretching their dollar, changing their money mindset, or learning new ways to increase monthly income," adds Nancy.
WGW provides one-on-one coaching to women looking for support with a specific financial situation, and offers training to groups on a range of money-related topics. WGW also provides online webinars and DVDs as well as engaging, interactive women-only seminars.  WGW's upcoming workshop, "Stop Living Paycheck to Paycheck" will be held on September 20 in Lakewood and will teach participants how to take control of their money. Mountain Connection readers who register for this event will receive a discounted price.
"One of the main things I tell women is that anyone can achieve financial stability with the right education and action," Nancy added. "I was raised by a single parent, didn't have a job after college, got divorced and essentially had to learn 'all things money' by trial and error.  That being said, being smart with your money and having a personalized plan in place are keys to success."
Nancy is also the owner of The TaxAuthority, LLC, a local tax preparation business. She said her work here has given her additional insight into the ongoing money management issues people face.  Poor decisions ultimately impact financial independence and can cause major financial burdens, especially when coupled with unanticipated life events such as a divorce or death, she said. WGW helps women address these types of events and stay on track with their short- and long-term financial goals.
"In the end, I want each client to reach financial independence so that they have the freedom to live a great life, fulfill their dreams, and of course, have some fun along the way," adds Nancy. 
To register for the September workshop, or to learn more about Women Gaining Wealth, visit the website at www.womengainingwealth.com or contact Nancy directly at 303-697-0736.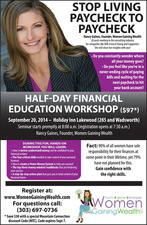 ---
---
Women and money, financial eduction workshop, Nancy Gaines, Women Gaining Wealth,
---