Long live the Jeffco High School Rodeo Team

10/18/2014 11:02, Published by Jacqueline, Categories:
---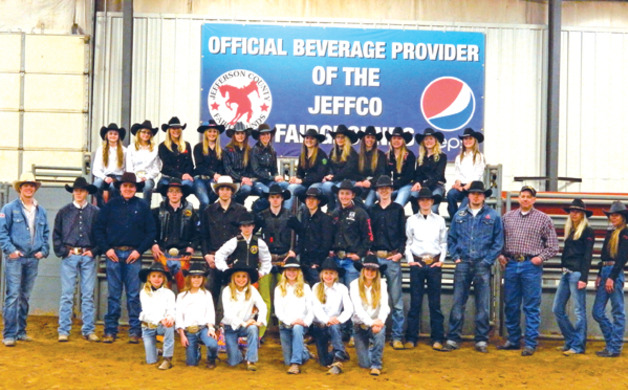 ---
---
by Margo Hamilton
You might think a high school rodeo team is an obscure nonprofit with both little interest and achievement in these high tech times in which we live, but guess again! 
The Jefferson County High School Rodeo Team is comprised of 40 kids that unite from various high schools throughout our county, and about half of the team is comprised of kids coming from Bailey, Conifer and Evergreen. 
John Wilson, who is vice president of the club, proudly proclaimed, "We take urban kids who have an interest in participating in rodeo and train them to compete against kids who have been raised in the saddle, live on ranches and perhaps have participated in rodeos and transition them into first class rodeo athletes. Kids on our Jeffco team know how to unite, even though they come from a variety of high schools throughout the county, and not only compete but place and win in rodeo competitions."
When asked what is required to join the Jeffco High School Rodeo Team, John replied, "The only requirement is to have an interest in rodeo, and if you want to compete in horse events, you have to own or lease your own horse. The annual dues are $75, and we practice at the Jeffco Rodeo Fairgrounds and kids learn from rodeo and equestrian pros, whom we pay, so each kid pays $10 for every practice, which also goes to pay for the arena time and to the stock contractors."
With a plethora of ranches throughout Colorado, the Jeffco team faces a few jeers from the skeptics who judge an urban rodeo team inferior; but let the competition speak for itself. John said, "Kids may come to us with no prior rodeo experience, but they learn not only how to compete but win, which silences our skeptics. Our team not only gains rodeo competition experience, they also learn the value and meaning of the western way of life."
The importance of academics also wrangles its way into this team, as Jeffco High School Rodeo Team members vie for yearly scholarships. John explained, "Our college-bound seniors can achieve scholarships, and we send the scholarship money directly to their attending college."
Support is needed to ensure that the Jeffco High School Rodeo Team thrives, and there are several ways to back this amazing group. Sponsors are needed for their annual rodeo, which will be held at the Jeffco Fairgrounds April 11th and 12th in 2015. Business and organizations are encouraged to buy ad space for the program. Sponsors and advertisers receive a tax deduction for their financial support.
Direct donations are also appreciated which go directly into the sponsorship program and also help defray the cost of their annual rodeo, which tips the bill at $15k to $20k. "We don't charge an entry fee for participants as we want anyone and everyone to come watch our annual rodeo," John said.
Help this amazing team promote interest in rodeo sports among high school students as well as provide training and competitive enthusiasm for the amazing sport of rodeo. There are chapters throughout the United States, Canada and Australia that boast a membership of over 12,000 kids. 
If your child has an interest in rodeo, encourage them to become a team member. The girls' events include barrel racing, breakaway roping, pole bending, goat tying, team roping and girls cutting horse. 
The boys events include tie down (calf) roping, steer wrestling, bareback riding, saddle bronc riding, bull riding, team roping and the cutting horse competition. The coed event is team roping.
For more information, contact John Wilson at 720-297-0714 or jamwjam@comcast.net.
---
---
Jefferson County High School Rodeo Team, Bailey Colorado, Conifer Colorado, Evergreen Coloraodo, John Wilson, rodeo
---