From Miss Cranky Pants to gorgeous!

01/28/2015 11:20, Published by Jacqueline, Categories: Today
---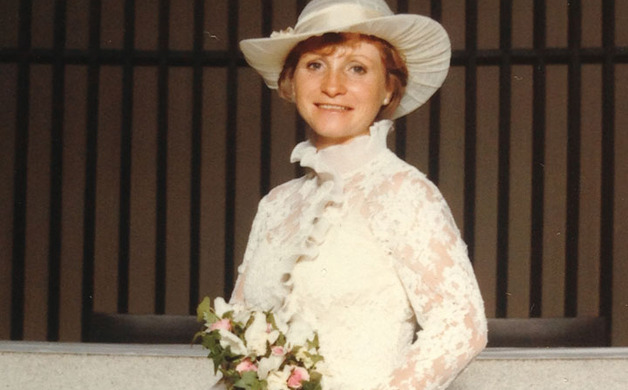 ---
---
by Sandee Port
Back in the spring of 1981, I was giving thought to my wedding dress.
My girlfriend Joyce, who also was getting married, suggested we go to a fashion show.
At the time, I envisioned a simple dress, so I didn't see the point, but went along for the adventure.
Lo and behold, my wedding dress came down the runway.  A lace jacket with pleated chiffon ruffle around the edges, up the  front closure and around the neck creating a standing collar. The pleated chiffon went around the sleeve hem creating a vented cuff.       
by Sandee Port                                                                       
I always thought I would make my wedding dress, but decided to go to the bridal shop and try it on. It fulfilled all my fantasies, but was out of my price range ($5000).
I got on board and found pleated chiffon for jacket trim and a wider pleated chiffon for the skirt of the dress. The ensemble was completed with an embroidered Belgium lace for the jacket, all for a cost of $500, plus my labor. I was glad I had a year to execute the dress. At the end, I used scraps and some flowers to create my hat.                                                                                                                       
Thank God for the hat. It saved the day! I had the wedding back in my home state of North Dakota, therefore, I was using my mother's hairdresser. She made the mistake of taking away my bangs. With my high hairline, not a pretty look! But the hat saved the day! I was Miss Cranky Pants until the hat was on.
I learned a lot from my wedding day that I share with my clients. The wedding dress sets the tone for the ceremony. Be flexible. Relax, delegate and focus on you and the groom.
I thought of myself as a calm woman of 31. If I can get rattled—anyone can.
Sandee Port is a local seamstress with over 30 years of experience. Call her at 303-838-9417 or visit
www.SunandaDress
making.com.      
---
---
wedding dress, seamstress, dress maker, Sandee Port dress maker Sandee Port
---