Jazzercise–so much more than exercise

05/31/2015 13:38, Published by Jacqueline, Categories: Health+Wellness
---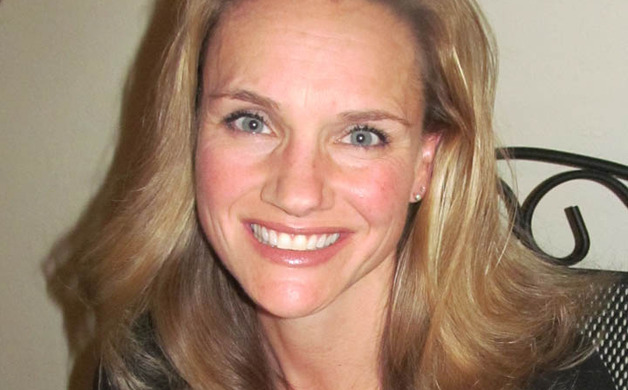 ---
---
Aimee Pless, pictured above
by Aimee Pless, Jazzercise instructor and center owner
When I walked into my first Jazzercise class in 2005, I was pleasantly surprised to see a fresh, pulse-pounding program that had evolved past the 1980's stigma of leotards & jazz hands. 
Since I started Jazzercise as a new mom, I've lost 35 pounds, kept it off and am now in the best shape of my life! 
I never thought that not only would I become an instructor, but also own a fitness center where my staff and students have become like family to me. 
But what really keeps me going are the amazing people I come into contact with every day at my studio. Whether they are there to lose weight, de-stress, socialize, build muscle tone, dance or simply have an hour of worry-free "me" time, they each have a story to tell. 
Like the Jazzercise program, these women have broken through barriers and continue to strive for physical and emotional wellness. 
Here are just a few stories that inspire me to keep doing what I love: 
Rachel: When I started Jazzercise in 2011 it was because I was having some severe anxiety.  My doctor recommended exercise as a way to manage the anxiety. Now I call it my "brain medicine."  That same year, my mom was diagnosed with a brain tumor and died three months later.  I kept up with Jazzercise the whole time and it became my safe place to forget the world and just dance!  Four years later, it is still so great to have that hour for myself.

Denise: I have been doing Jazzercise for one year.  During this year, my body and mind have undergone amazing transformations.  My bone density testing went up, I am down two jean sizes and you can image where this leaves me mentally.  Conifer Jazzercise having such motivating instructors kept me going, and I forgot I was even exercising.  You get lost in the music and forget you are working out!
Beth: Extreme scoliosis and fitness can be two things that are very difficult to put together. Since I was a teen, doctors have been pretty negative about me doing physical activity. About 12 years ago, after retiring from teaching due to my physical problems, I wandered into Jazzercise. I was instantly hooked. I think what makes it perfect for me are the positive and supportive people I am surrounded by at our center. I had my third spinal fusion in 2006 and made Jazzercise part of my rehabilitation along with Pilates. I am doing so much better than my surgeon expected and am a very lucky girl, indeed. I don't do the moves like other people and that's okay, as instructors show modifications. I still can't stand more than twenty minutes at a time and I rest a lot, but my exercise routine helps me be better than I have ever been.
Alex: As a recent widow, I found Jazzercise to be one of the most helpful tools in my grieving process. Although returning to class was difficult, my continuing to participate has proved invaluable to my healing. The hour spent in class has become a time to set aside my grief as I allow the music, the movement and the fellowship of my classmates to lift my spirits. My participation in a recent "attendance challenge" was instrumental in getting me through a very rough patch. The incentive to finish the challenge even on my hardest days kept me from plummeting into a deeper state of despair. I attribute Jazzercise with strengthening my core, which immediately improved and prevented further lower back pain and kept me healthy during the cold and flu season. Thank you and the other quality instructors for your endless enthusiasm, uplifting energy and superior fitness instruction.
Kay: I began Jazzercise 2 years ago hoping to speed up my metabolism, lose a few pounds and get healthier.  In six months, along with good eating, I lost 24 pounds.  I have continued to keep the weight off because I try to go to class at least 4 times a week.  I'm addicted and love the complete workouts!  Love the instructors, too! 
Debbie:  Before Jazzercise, I was not a work out person, I definitely lacked motivation, and I have felt intimidated and uncomfortable in class environments before.  After my first Jazzercise class, I was greeted by so many nice strangers who are now my friends.  We encourage each other, laugh together and truly have a great time. The music is high energy and a great variety.  Each of the instructors is so knowledgeable and makes every work out different, challenging, and yes, fun!    Even when my lungs are sucking air and my muscles are screaming, I cannot help but smile throughout the workout – simply because it is so much fun!  Oh, added bonus:  I have lost about 15 pounds and 22 inches since I joined!
Anna: I was looking for a gym/exercise place that I could go to as a stay at home mom. Then I discovered Conifer Jazzercise; it was within our budget and the childcare was very affordable. I went to my first class in February 2014 and was hooked, and that is coming from someone with very little coordination! I can now do routines and moves that if you asked me a year ago I would have said I will never be able to do that. I have lost all my baby weight plus some with the help of Jazzercise, and have gained tons of confidence. I am stronger and healthier than I ever have been. Plus, I have met lots of ladies and fellow moms in the community, which can be a challenge in these small mountain towns. My 2-year-old son loves going to the studio to play while I workout. I love it and can't say enough great things about it! 
Kendra: Six years ago I walked into Conifer Jazzercise needing an exercise class to fulfill a requirement for our insurance company to approve gastric bypass surgery.  I had the surgery, continued with my Jazzercise classes, lost 135 lbs, and I have kept it off. I am healthy, I ski and hike, and I have even tackled a few 14'ers. The best part is I can keep up with my wonderful kids. Jazzercise is not just an exercise class; it has become part of my lifestyle. I love it! 

• • •

Jazzercise recently unveiled a new look, new voice and new class offerings. The company recharged its brand identity to reflect the calorie-crushing intensity of its workouts and confront the misconception that Jazzercise hasn't evolved from its meteoric rise in the 1980s. 
The new brand expression is edgy, intense, hard hitting and modern, mirroring what customers experience in class today.  
For more information on Jazzercise, visit jazzercise.com. For information on classes in our mountain community, contact Aimee Pless (Conifer studio) at 303-260-8059 or Deb Brobst (Evergreen studio) at 303-601-8098.
---
---
Conifer Jazzercise Evergreen Jazzercise Aimee Pless
---