Conifer Mountain BBQ Challenge Aug 14-15

08/06/2015 15:36, Published by Jacqueline, Categories:
---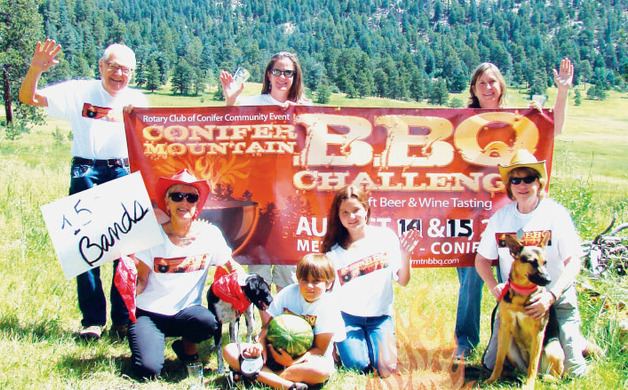 ---
---
by Suzanne Barkley, Conifer Rotary
The third annual Conifer Mountain BBQ Challenge will be Friday and Saturday, Aug. 14 and 15, on the grounds of the historic Meyer Ranch in Conifer.
The pieces are in place:
• a huge array of special Colorado craft brews
• 2 days of continuous live music
• an unbelievably beautiful venue
• and that taste tempting BBQ—the only  truly American cuisine!
Add in the Kids' Area and great retail vendors and we have a great FAMILY event planned!
The only thing missing to bring this alive is YOU!  YOU—our local community, and friends and neighbors from nearby communities.  YOU—to come and join in the celebration during this Rotary Club of Conifer signature community event.
• Admission is FREE.
• Parking is $5. Proceeds from the $5 parking fee also support our own community service projects, with a portion to Meyer Ranch in thanks for use of the beautiful venue.
• Beer tasting bracelets will be available for $25—which includes your Collector's Rotary Club of Conifer tasting glass and a full day of unlimited beer tasting. 
Wine and margaritas will be available for purchase by the glass. Several of the KCBS competing BBQ teams will have their delicious products for sale for your tasting pleasure over the two days.  
• The party begins at 2 pm on Friday, Aug. 14, and runs till 8 pm. It starts again Saturday, Aug. 15, at 10 am and runs till 8 pm. 
It's a great way to end your work week and kick off a great weekend with BBQ, music and beer. 
The Kansas City BBQ Teams will fire up their pits, grills and smokers. The brewers will tap their kegs. And the music will kick off at 10 am Saturday until dusk—around 8 pm.
As in the past, of course, there will be many other food options, including vegetarian, Mexican, corn, sweets and shaved ice and more.
So we invite YOU to come help bring this event ALIVE!  We, from the Rotary Club of Conifer, are so grateful for YOUR continued support as we engage in major local community projects such as the "285 BackPack Project," our community feeding our kids; support for Adult Literacy, Peaceworks, Mount Evans Hospice and high school scholarships, to name a few.
All of the proceeds from the event itself go directly to benefit community service projects of the Rotary Club of Conifer.
Please visit our website for details about our generous sponsors, the music schedule, participating KCBS cook teams and other event details at www.conifermtnbbq.com.
You may also email the event chair at matmatson@skybeam.com.
Suzanne Barkley is past-president of the Rotary Club of Conifer and chair of public relations. Contact her at indesign2@centurylink.net. Inquire about the new satellite Rotary Club that meets in the evening or join the existing 7 am Tuesday breakfast Rotary Club meeting.
---
---