Seniors often want to live at home

08/30/2015 13:42, Published by Jacqueline, Categories: Health+Wellness, Today
---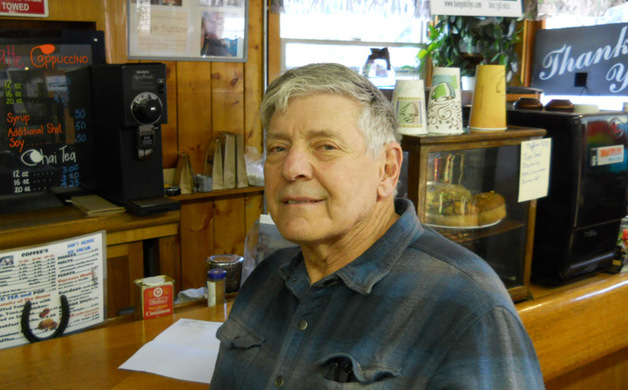 ---
---
by Margo Hamilton
Mel Schulman's ageless zest for living is derived from his devotion and love of living in the mountains. Mel is pictured above at the Knotty Pine in Bailey.
Stricken with a brain abscess, Mel's family and physicians thought he was destined to live his remaining years in a nursing home, but that was not his idea of living.  
"My vision, mobility and cognitive skills were impacted as a result of the brain abscess. I received physical therapy that required I walk around obstacles and weave this way and that. 
"I was convinced I would both recover and regain my mobility if I was allowed to live in my Park County home and walk the trails that I love.  Mountain trails have natural obstacles all their own, and stepping over the roots of trees, rocks and meandering about on wilderness trails brought more joy to my heart than receiving physical therapy in a sterile setting."
Not to be detoured from returning to his home, Mel posted an ad for a hiking buddy, and found the Park County Senior Coalition's (PCSC) mission aligned with his own. The coalition and Mel both contend "seniors maintain the highest quality of life by remaining in their homes as long as possible." Mel not only found a hiking buddy, the PCSC provided him with a housekeeper, meal deliveries and transportation to ensure he remain in the care of his own personal physician.   
Independence restored Mel's vitality and agility, so he decided to give back to PCSC by becoming a representative and board member, which lead to his current post as president of the board. "Hundreds of seniors are in need of PCSC's services that include transportation, handyman service, meal delivery, respite programs and information and referral services.  
PCSC also pays for fire mitigation and sweeping chimneys for seniors who long to remain in their home but don't have the resources and physical abilities to maintain their property," Mel said. "There's one Park County senior living independently, and we are celebrating his 100th birthday."
Independence, mobility and living in one's own home becomes a vulnerable existence, as eyesight, social outlets and health may be strong one day and compromised the next.  
Bobbi A. Gore, PCSC executive director, recalled Park County pioneer, Norma Newquist. "Norma established social events, such as quilting and carpools to take seniors to events. She accessed funds through the Older Americans Act and initiated the foundation of PCSC for people 60 and older that includes, meals, transportation and handyman services.
"Since Norma's time we have added veteran services that can help veterans receive care from non-VA providers, thereby expanding the VA's ability to provide timely care to veterans," Gore said.
The Park County senior population is growing and PCSC is in need of volunteers to assist with transportation and meal deliveries. To help PCSC use its funding for services rather than expenditures, they would appreciate donations of offices supplies, such as 8 ½ x 11 paper, envelopes, stamps, paper clips, binder clips and pens.  
Tuesday, Dec. 8, is Colorado Gives Day, which is an annual statewide movement to celebrate and increase philanthropy in Colorado through online giving. Mark your calendar to donate directly Park County Senior Coalition through www.ColoradoGives.org.
Park County encompasses 2,000 miles and dedicated volunteers and donors are needed to ensure the needs of the senior population are being met. There's no place like home, especially for seniors who want to live in their mountain homes.  
For information, go to the PCSC website at http://www.parkco.us/514/Senior-Coalition or call 719-836-4295.
---
---
Park County Senior Coalition Mel Schulman seniors living at home
---