Celebrate! BackPack Project is back. Plus, Charlotte is honored!

10/28/2015 15:16, Published by Jacqueline, Categories:
---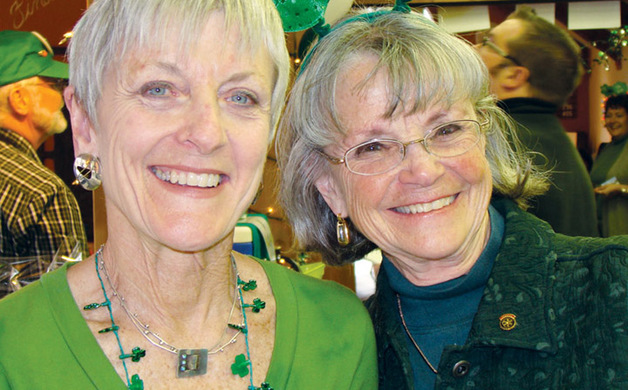 ---
---
by Suzanne Barkley
Suzanne Barkley and Charlotte Wytias pictured above
Time to celebrate the continued success of Conifer Rotary's 285 BackPack Projects—the third year of feeding hungry kids on the weekends in five local schools!

And it's time to celebrate the upcoming release of the third 285 Coupon Book to support the BackPack Project!
And there's more. Our own community and Rotary leader Charlotte Wytias has been chosen by 9News as one of 9Who Care!
The 9Who Care Board of Governors, made up of business and community leaders, focuses on Colorado's un-sung heroes…. volunteers! And it also recognizes the nonprofit organization associated with the 9Who Care winners.
In selecting their recipients, the board of governors considers what motivates the volunteer, what distinguishes him or her from others, and what differences the nonprofit is making in the community.
Charlotte was nominated by the Rotary Club of Conifer, primarily for her work with the 285 BackPack Project.
A second generation native Coloradan, Charlotte had temporarily moved to upstate New York for nearly 14 years, working in various capacities.  A few years ago she returned "home," built on property she owned in Bailey and joined the Rotary Club of Conifer.  
She was immediately drafted to lead the implementation of the club's signature project—the "285 BackPack Project…our community feeding our children", based on previous volunteer experience with Millie's Closet in New York.
Under her stewardship, the project has grown in three years from a partnership with a single school, to five schools, providing much needed nourishment to 130 children on the weekends during the entire school year.
Charlotte is selfless. She and the team of volunteers receive personal gratification from seeing looks of appreciation when a child receives his or her food and relief the family expresses when parents know they can feed their children over the weekend. But confidentiality is of utmost importance to them, as it ensures families their anonymity in accepting help. 
She has gathered the team of volunteers from Rotary and from many community churches and organizations. "The most important thing is that I could never do this by myself," she said. "It takes a whole crew of volunteers, week after week, to make this happen."
Charlotte describes how she occasionally feels a pang of hunger when going to sleep at night … perhaps having attended a meeting and missing supper. "Imagine," she said with a hint of despair, "that hungry children go to bed at night and school in the morning—and may be hungry all day."
She carries her loyalty to the children with her everywhere she goes in the form of coupon books that raise funds to support purchasing the food from Food Bank of the Rockies.  
She tirelessly conducts outreach through community events, presenting to faith and civic groups. Currently she is on a mission to provide at least one piece of fresh fruit or a vegetable in every backpack every week The more children served, the bigger her dreams go. If there's one single child still hungry, she finds a way to add an extra bag that week!
Charlotte, in every one of her volunteer capacities, including and far beyond BackPack, leads from her heart. It doesn't matter if it's the children and families in the BackPack program, adults from the Community Veterans' Coalition, or women and children living temporarily in Mountain Peace Shelter—every action, every relationship is heartfelt.  She could be said to be motivated by "affairs of the heart."
She has been described by her church congregation as a "treasure," for her help with the congregation to find their focus and energize their members to live their mission of social justice work.
The Rotary Club of Conifer is certainly no stranger to celebration!  As part of the larger organization, Rotary International, whose mission is "Service Above Self," the Conifer Club is dedicated to the significant needs of our local and international communities.
In that capacity, the Conifer Rotary Foundation has channeled over $75,000 into local community projects in addition to the above mentioned 285 BackPack Project.
Most of you have participated in one or more of Rotary's FUNdraising Celebrations!
The 9Who Care award also brings with it a generous financial contribution to the Rotary Club of Conifer to help with additional projects. One of the club's newest programs is a "Bullying Awareness and Prevention" curriculum, due to be introduced this fall to the three local elementary schools. 
Conifer Rotary will continue to BE the difference in our communities, providing leadership opportunities for both adults and children, scholarships for our two local high school seniors, Adult Literacy classes, hands-on and financial support to Mountain Peace Shelter, and support in many many forms to the students and teachers in all of our local schools.
We congratulate Charlotte Wytias and celebrate with her!!
Suzanne Barkley is a member of the Rotary Club of Conifer
---
---